Academy of Distinguished Alumni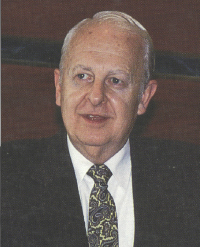 Charles A. Machemehl
M.S., University of Texas at Austin, 1964
B.S., University of Texas at Austin, 1957
Charles Machemehl received his bachelor's and master's degrees at UT Austin, where he played varsity football and completed ROTC. Upon graduation, he spent three years of active duty as a civil engineering officer with the U.S. Air Force. In 1960, Mr. Machemehl entered civil service at Bergstrom AFB, where he was responsible for all civil engineering projects at the base. He joined the staff of the Portland Cement Association in Austin in 1964 as a field engineer and became director of marketing. During this time he also served in the Air National Guard as a civil engineer in Austin, attaining the rank of major.
In 1968 he became a research engineer at the Vulcan Materials Company in Birmingham, Ala., the largest producer of crushed stone in the world. He retired from Vulcan in 1995 as vice president for marketing and business after 27 years of service. During this time, he also served in the Alabama Air National Guard, rising in the ranks to brigadier general in 1987 before retiring in 1988 with 31 years of service.
Mr. Machemehl assumed his present position as executive director of the Georgia Crushed Stone Association in Atlanta in 1995. He promotes acceptance and use of crushed stone and disseminates information on its correct usage to the public. He has published numerous articles and made presentations nationwide on using crushed stone to its best advantage in the construction of pavement, structures and drainage facilities. He helped organize UT's International Center for Aggregate Research and served on its board of trustees.
Mr. Machemehl has received numerous awards, including the Legion of Merit (1988). He is a member of many professional societies and associations, including the National Society of Professional Engineers, and the National Crushed Stone Association. Mr. Machemehl has served on the UT Austin Engineering Foundation Advisory Council since 1989.
Inducted November 7, 2003