Academy of Distinguished Alumni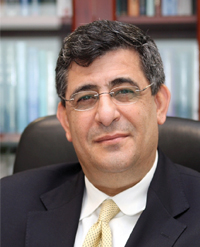 Ahmad K. Abdelrazaq
M.S., University of Texas at Austin, 1986
B.S., University of Texas at Austin, 1984
Ahmad Abdelrazaq is an Executive Vice President of the Highrise Building and Structural Engineering Divisions at Samsung C&T Corporation. He has extensive experience in the design of buildings ranging from complex low-rise buildings to ultra high-rise, and long span structures.
Since joining Samsung in 2004, he has been involved in the construction planning and structural design of several local and international projects, including the Burj Dubai project as the Chief Technical Director. For this project, he played a key role in the development of the structural and foundation systems for the tower since the initial design concept until complete development and integration of all building systems. Additional notable projects include the Samsung Seocho Project and Korean World Trade Center in Seoul, Korea and the 151-story Inchon Tower in Inchon, Korea.
Prior to joining Samsung, Abdelrazaq was Associate Partner and Senior Project Structural Engineer with Skidmore, Owings & Merrill (SOM) in Chicago, Illinois where he was engaged in all aspects of structural engineering from planning and feasibility studies to construction administration. During his tenure at SOM, he was associated with projects such as the Jin Mao Tower, Tower Palace III, LG Kangnam Tower, LG Art Center, Chicago Palace, Hotel Vila Olympica, and the Millennium Park Project (Frank Ghery's Bandshell, the Great Lawn and Bridge).
In addition to his work at Samsung, he serves as a lecturer at Seoul National University, where he teaches a high-rise building design course for graduate students. Previously, he also served as an adjunct professor at the Illinois Institute of Technology's School of Architecture, where he focused on concrete/steel/composite structural systems and the shaping of supertall buildings to control their dynamic response to wind excitation. Abdelrazaq constantly pursues a collaborative approach to integrating the architectural and engineering design with construction methods.
Inducted October 9, 2009