---

CE367 Design Class Thank You to sponsors (March 2017)
Max Bernhardt, MS Student
maxebernhardt@utexas.edu

Max Bernhardt is in his first year of a Masters in Community and Regional Planning. After receiving his BA in Government from UT Austin in 2018, Max worked in renewable energy before returning to graduate school, focusing on sustainability in transportation and housing. He is working with Dr. Kockelman on a Pedestrian Crash Fatality Analysis for TxDOT, to identify factors that lead to pedestrian crashes as well as countermeasures to reduce pedestrian fatalities through design, planning and other improvements.
Yantao Huang, PhD Student
yantao.h@utexas.edu

Yantao Haung received his BS degree in transportation engineering from China's Central South University (CSU) in 2012, and his Master's degree in transportation engineering from Imperial College London. He then spent one year as a research assistant at Southeast University in Nanjing, China. He started pursuing his PhD at UT in January 2017, and is very interested in shared autonomous vehicles (SAVs), network simulations, and intelligent transportation systems (ITS). He has contributed to travel behavior modeling and analysis research under a TxDOT-sponsored research project on the topic of smart transport systems for Texas, NSF-sponsored work on sustainable transportation systems, and Argonne National Lab work on SAVs for first-mile last-mile services to rail lines.
Jooyong Lee, PhD Student
jylee3302@gmail.com

Jooyong Lee received his BS and MS degree in transportation engineering from Chung-Ang University, South Korea in 2014 and 2016, respectively. After receiving his master's degree, he worked as a research associate at the university's Transportation Engineering Lab. He began his doctoral studies at UT Austin in August 2017, and is interested in Connected & Autonomous Vehicles (CAVs), traffic modeling and simulations. He has worked on CAVs' emissions and energy impacts under different technology, pricing, and adoption scenarios; and is now studying smart evacuation of the Texas coast using SAVs, in the event of hurricanes and other disasters.
Christian Hunter, MS Student
christianhunter@utexas.edu

Christian Hunter was born and raised in Austin, TX. He received his BS in Civil Engineering from Brigham Young University, where as an undergraduate research assistant he worked on a UDOT project modeling a wheelchair-accessible TNC service in the Salt Lake area. After BYU, Christian returned to Austin to pursue his master's degree at UT. He is currently researching shared autonomous vehicles (SAVs) and curb use designations in the Austin area for GM Cruise.
Matt Dean, MS Student
mattdean@utexas.edu

Matt Dean received his B.S. in Civil Engineering and minor in Urban and Environmental Planning from the University of Virginia in May 2019 and joined Dr. Kockelman's team upon entering the program in August 2019. Matt became interested in a research career after working as an undergrad RA in seemingly every area of transportation (innovative concretes, crash analysis, public transit agency perceptions of TNCs and AVs, virtual reality testing for non-motorized modes). He is on track to receive his M.S.E. in Civil Engineering in December 2020 with his thesis focusing on strategic charging strategies and non-uniformity of shared autonomous electric vehicle (SAEV) fleets. His area of interest at UT Austin is in travel demand modeling and forecasting impacts of shared autonomous electric vehicles with an emphasis on integrating energy perspectives in transportation systems. Matt has his EIT and is a National Science Foundation Graduate Research Fellowship Program (NSF GRFP) Fellow.
Kai Huang, Post-doctorate Research Fellow
kai.huang@utexas.edu

Kai Huang received his PhD degree in Transportation Engineering at Monash University, Australia in 2020. He holds double master degrees at Monash University and Southeast University, China. His research interests are network planning and operation strategies design for shared mobilities. It focuses on advanced mathematical optimization techniques to solve difficult transportation problems. At UT Austin, He has contributed to anticipating and modelling the impacts of various technological and other changes on travel choices and traffic conditions under an NSF Industry/University Cooperative Research Project.
Jason Hawkins, Post-doctorate Research Fellow
jason.hawkins@mail.utoronto.ca

Jason Hawkins received his B.Sc. degree in civil engineering at the University of Calgary with a specialization in energy policy in 2014. He received his M.Sc. degree in transportation engineering in 2016. During his time in Calgary, he worked in both government and industry on summer placements and internships. He will complete his Ph.D. degree in transportation engineering at the University of Toronto this coming spring. His thesis examines how household time use and expenditures affect where people choose to live. Jason's research interests span transportation, land use, and climate change. He is excited to join the group as a postdoctoral fellow.
Samantha Lee, MS Student
samantha.lee@utexas.edu

Samantha Lee is a first-year master's student in the Sustainable Systems Engineering program with an interest in transportation systems. She grew up in Connecticut where she later graduated from the University of Connecticut with a BS in Civil Engineering in 2020. Before starting at UT in the fall of 2020, Samantha worked as a laboratory technician at the Connecticut Advanced Pavement lab contributing to asphalt materials research and pavement preservation projects. She joined Dr. Kockelman's team in 2021 and is researching the implications of autonomous vehicles (AV's) and how long-distance AV trips will influence various national transportation trends including traffic, vehicle emissions, freight travel and mode choice.
Natalia Zuniga-Garcia, Post-doctorate Research Fellow
nzuniga@utexas.edu

Natalia Zuniga-Garcia earned her Ph.D. in civil engineering (transportation engineering) degree from The University of Texas at Austin in 2020. She received her B.Sc. from the University of Costa Rica, where she served as an interim professor and researcher before joining UT Austin in 2015. She completed an M.Sc. in civil engineering in 2017 and an M.Sc. in statistics in 2018. Dr. She is interested in data analytics and machine learning applications in transportation, and her expertise areas include public transportation systems and emerging mobility services. Besides her academic work, she is involved in service and mentoring activities that promote transportation engineering to new generations. She has received 10+ competitive scholarships and awards for research, teaching, and leadership excellence.
Many undergraduate students have worked & are working on research projects under Dr. Kockelman's supervision. These include Jugal Amodwala, Albert Coleman, Caroline Leonard, James Lentz, Devin Wilkins, Jeffrey Hahm, Mike Hernandez, Tejas Choudhary, Ruohan Li, Lewis Clements, Aqshems Nichols, Scott Schauer-West, Kevin Pappas, Zelleny Lozano, Brad Caponigro, Matt Reiter, Rydell Walthall, Brice Nichols, Jonathan Lumang, Jay Chmilewski, Amy Neskar, Joy Chen, Anne Hulsey, Andrea Debee, Charlotte Whitehead, Matt Bomberg, Melissa Thompson, Robin Lynch, Kristin Donnelly, Travis Dunn, Mike Reyes, Iris Lin, Alexander Marks, Curtis Bouldin, Renee Pean, Daisy Esquivel, Jeff Easton, Victor Long, Atul Magoon, and Sze Ki (Silky) Wong.
Maizy Jeong, BS Student
maizyjeong@utexas.edu

Maizy Jeong is a second-year undergraduate student at UT Austin. She is studying Environmental Science and hopes to graduate in May 2023. She was born and raised in Northern California and joined Dr. Kockelman's team as an administrative assistant in January 2020. During the school year, she also enjoys being a Radio DJ at the university's radio station. She is intersted in all aspects of environmental science, and will be declaring a track in the fall.
Dorcas Olaoye, BS Student
dorcasmo18@utexas.edu

Dorcas Olaoye is a junior at UT Austin, studying Civil Engineering. She joined Dr. Kockelman's team as an undergraduate assistant working on an Austin Parking database for the team's POLARIS simulations. She was born and raised in Lagos, Nigeria and moved to Houston, Texas at the age of 7 years old. When she's not being an engineer, working with the Women in Engineering Program, and being an advisor in the National Society of Black Engineers, she enjoys napping... a lot, reading and painting.
Past Graduate Students (& Post-doctoral fellows) - and their new coordinates...
Mr. Neil Quarles
MS Civil Engineering, 2017
City of Austin Transportation Department, Austin, TX
neilquarles@utexas.edu
Mr. Anant Pradhan
MS Civil Engineering, 2002
Cambridge Systematics, Inc.
University of Chicago Business School
Deceased, January 2007 (We Miss you, Anant!!)
Dr. Yong Zhao
PhD Civil Engineering, 2003
Sr. Transportation Planner, Jacobs Engineering, Austin, TX
yzhao1@yahoo.com
Dr. Brenda (Bin) Zhou
PhD Civil Engineering, 2009
Assistant Professor, Central Connecticut State University, New Britain, CT
zhoubin@mail.ccsu.edu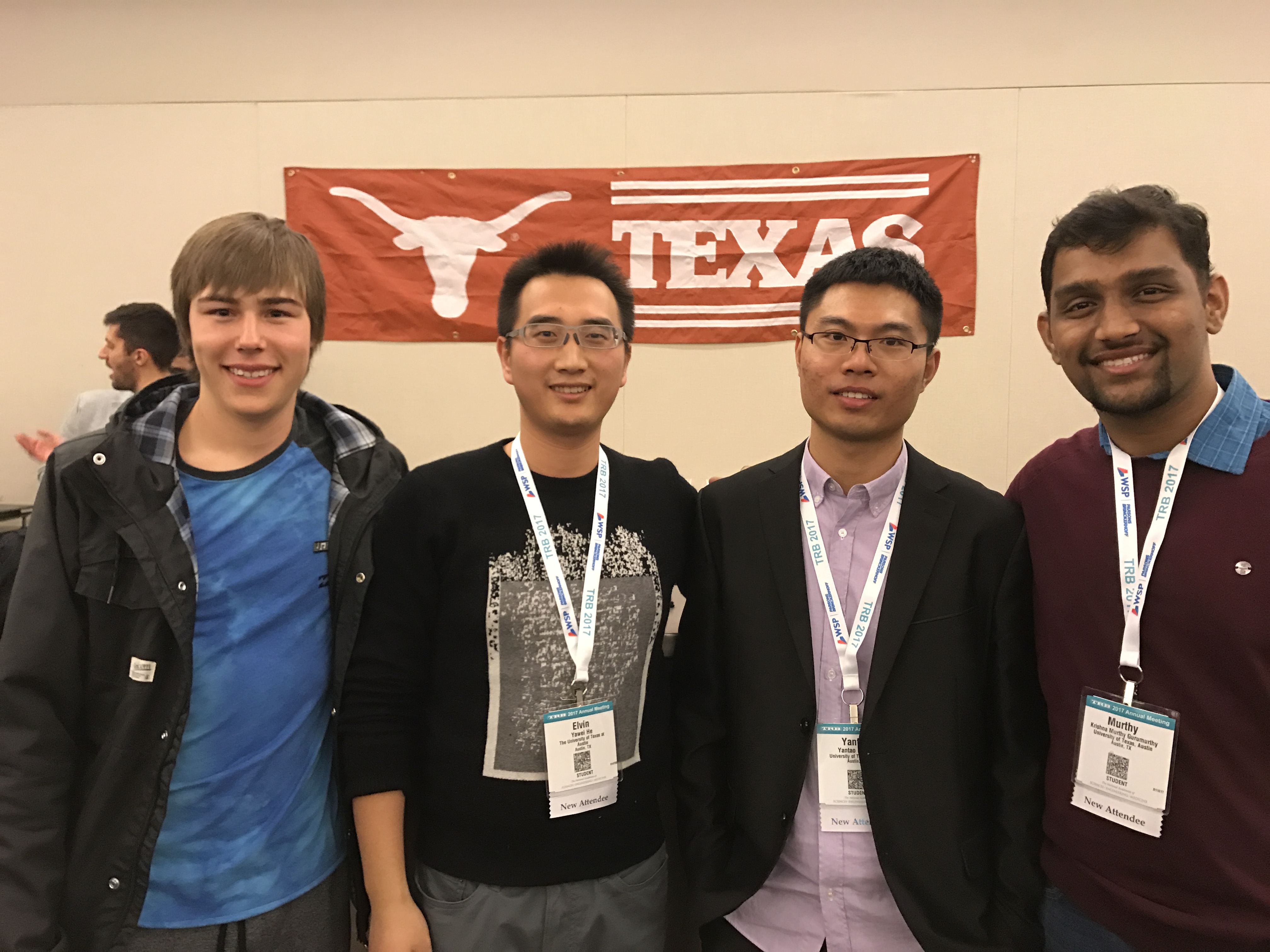 Scott Kilgore, Yawei He, Yantao Huang and Murthy Krishnamurthy at TRB 2017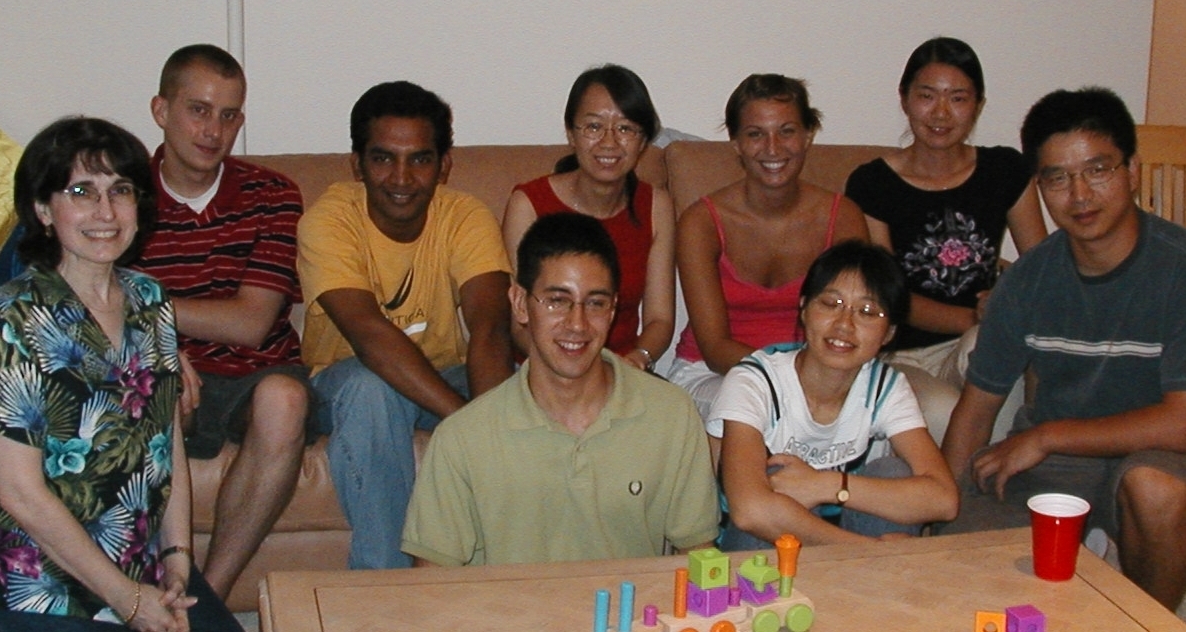 Back row, left to right: Jason Lemp, Shashank Gadda, Brenda Zhou, Laura Mcwehty, and Zheng Li.
Front row, left to right: Annette Perrone (admin. assoc.), Stephen Boyles, Tian Huang and Jianming Ma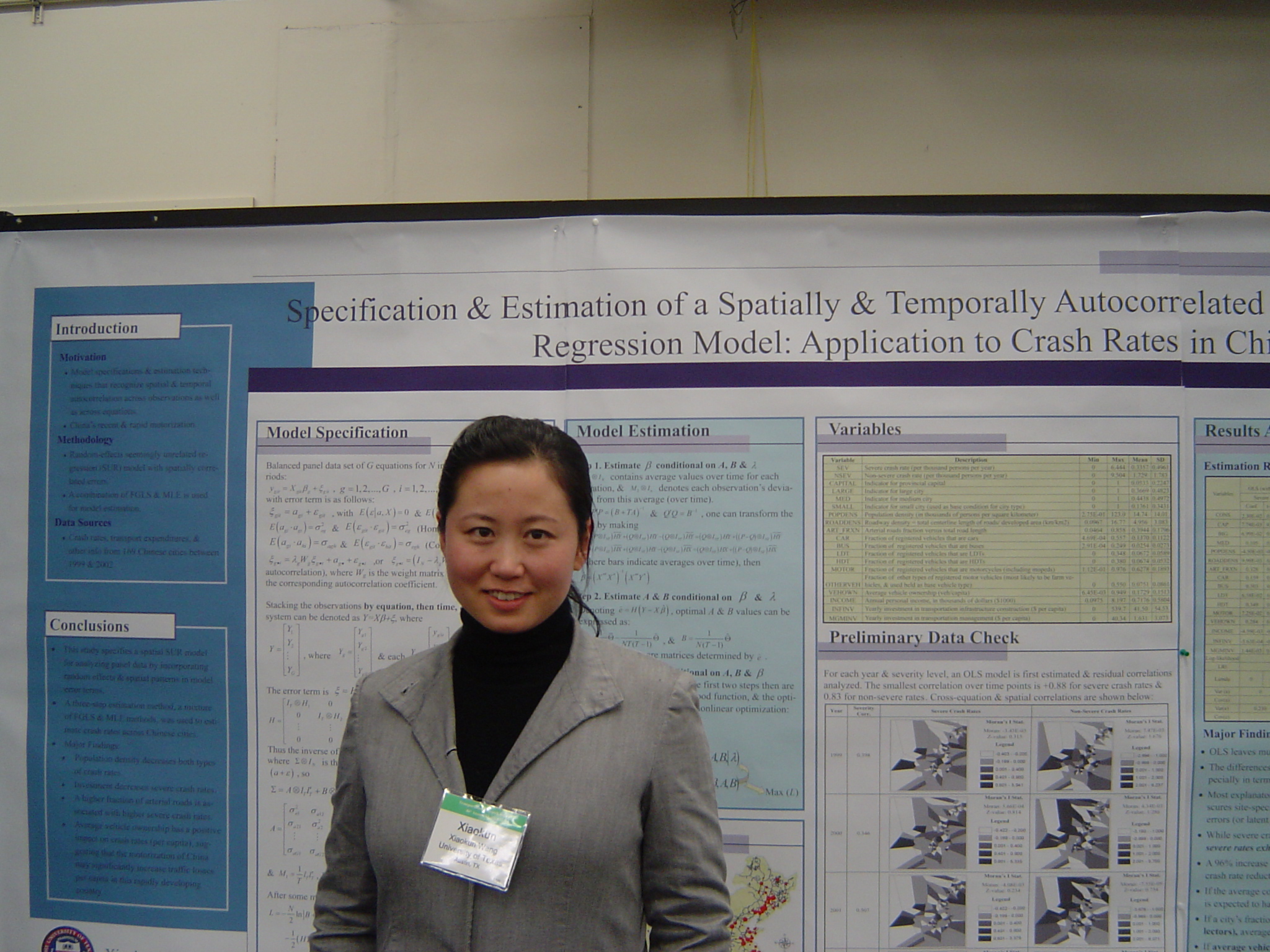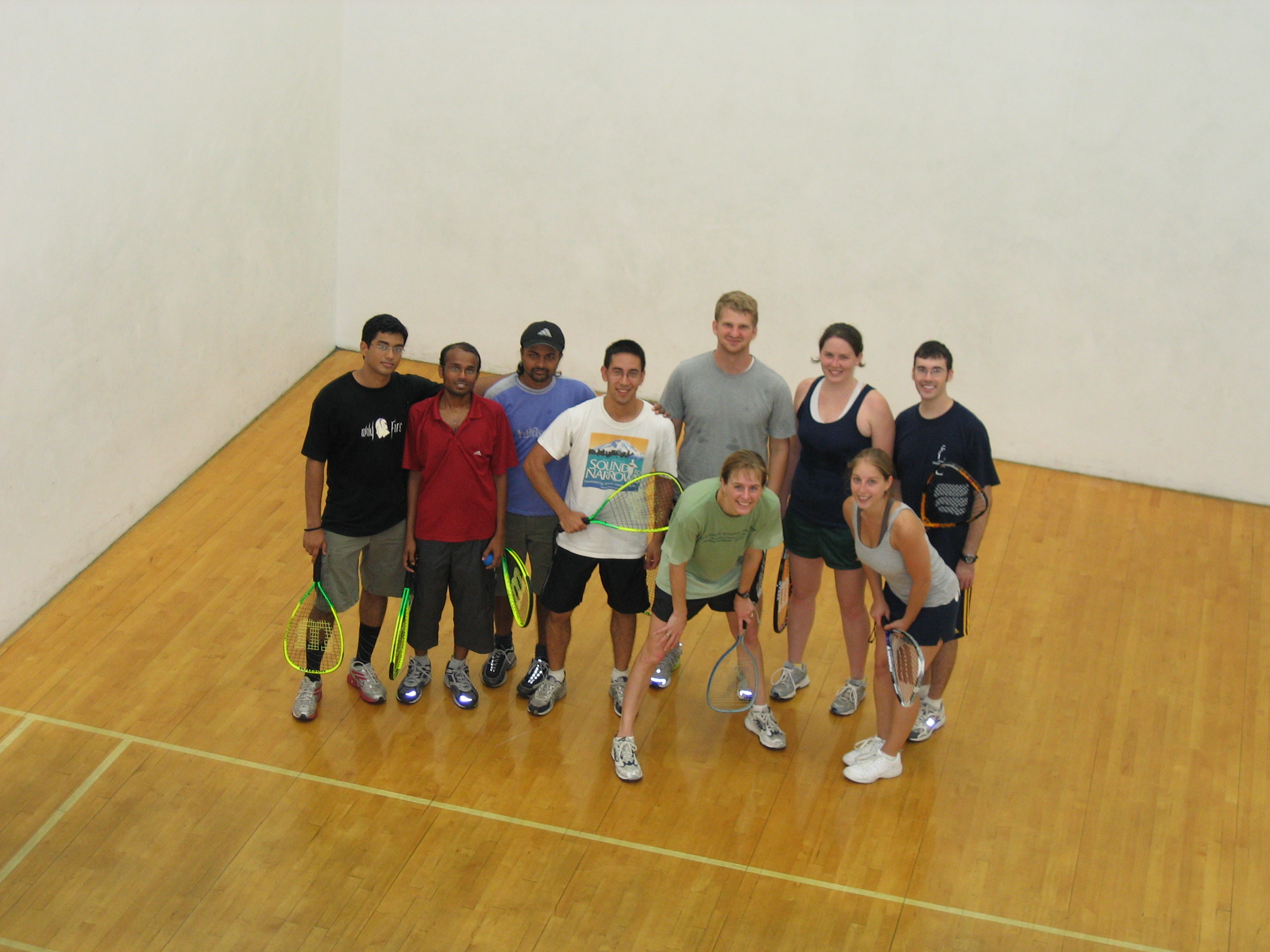 Racquetball tournament at Gregory Gym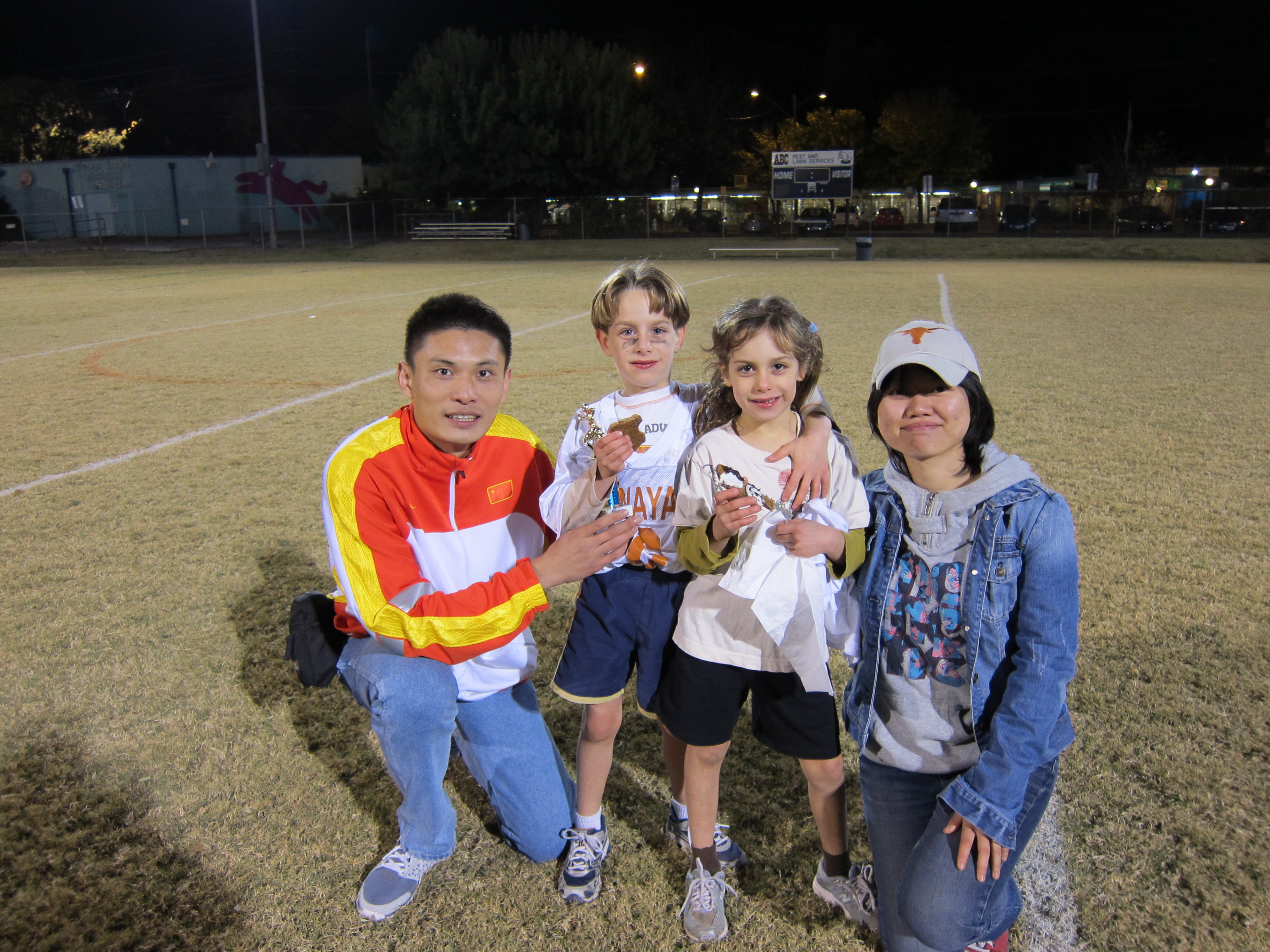 Flag Football Champs with Xiaokun Du and Xiaoxia Xiong (Nov. 2010)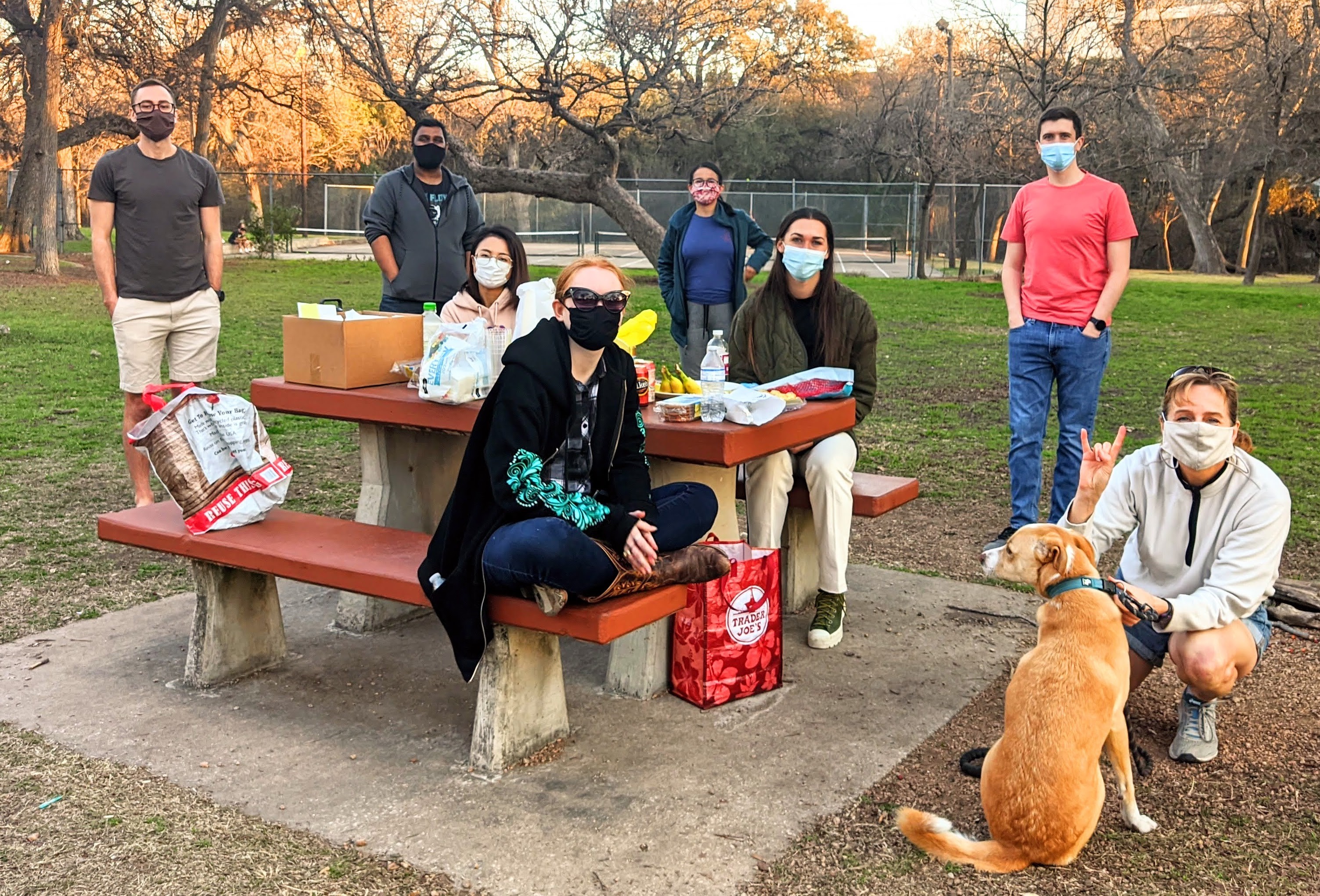 Kara Kockelman and graduate students enjoying a socially-distanced taco fest at Eastwoods Park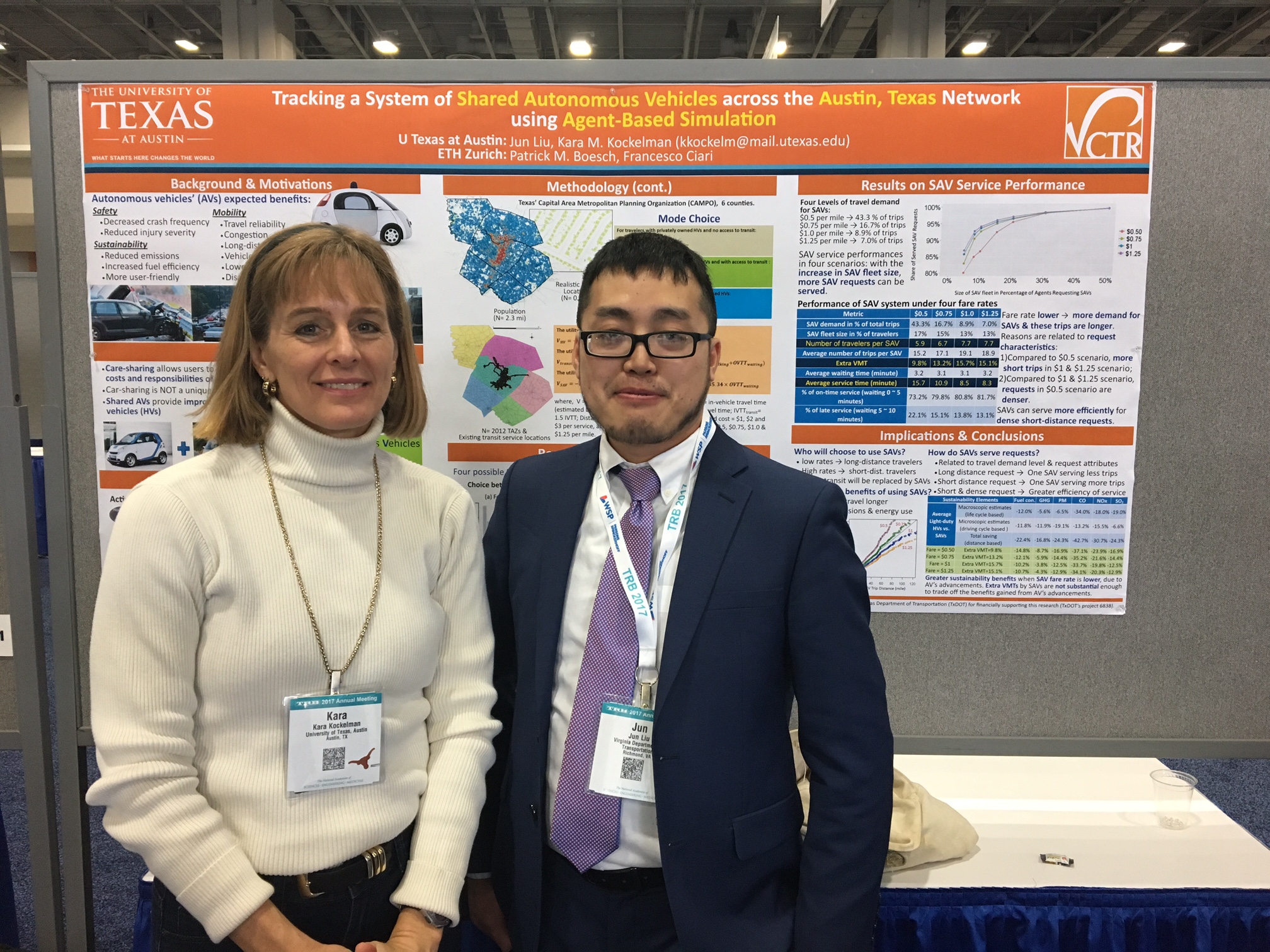 Kara Kockelman and Dr. Jun Liu at TRB 2017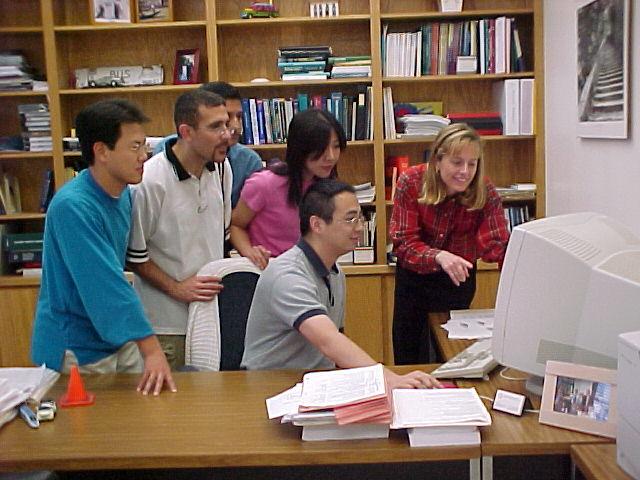 Jun Kweon, Issam Sour, Ling Jin, Yong Zhao, and Kara Kockelman (2000)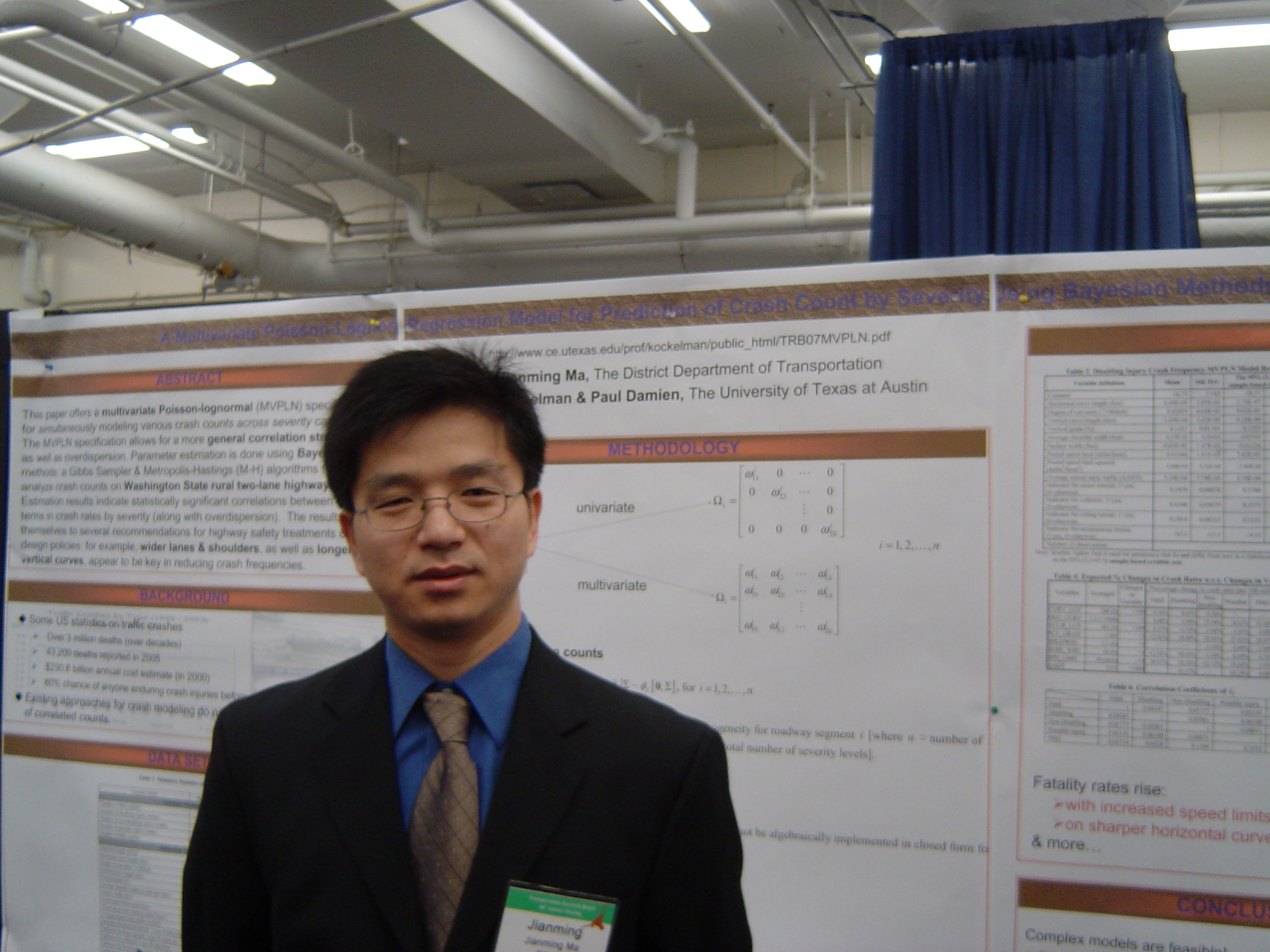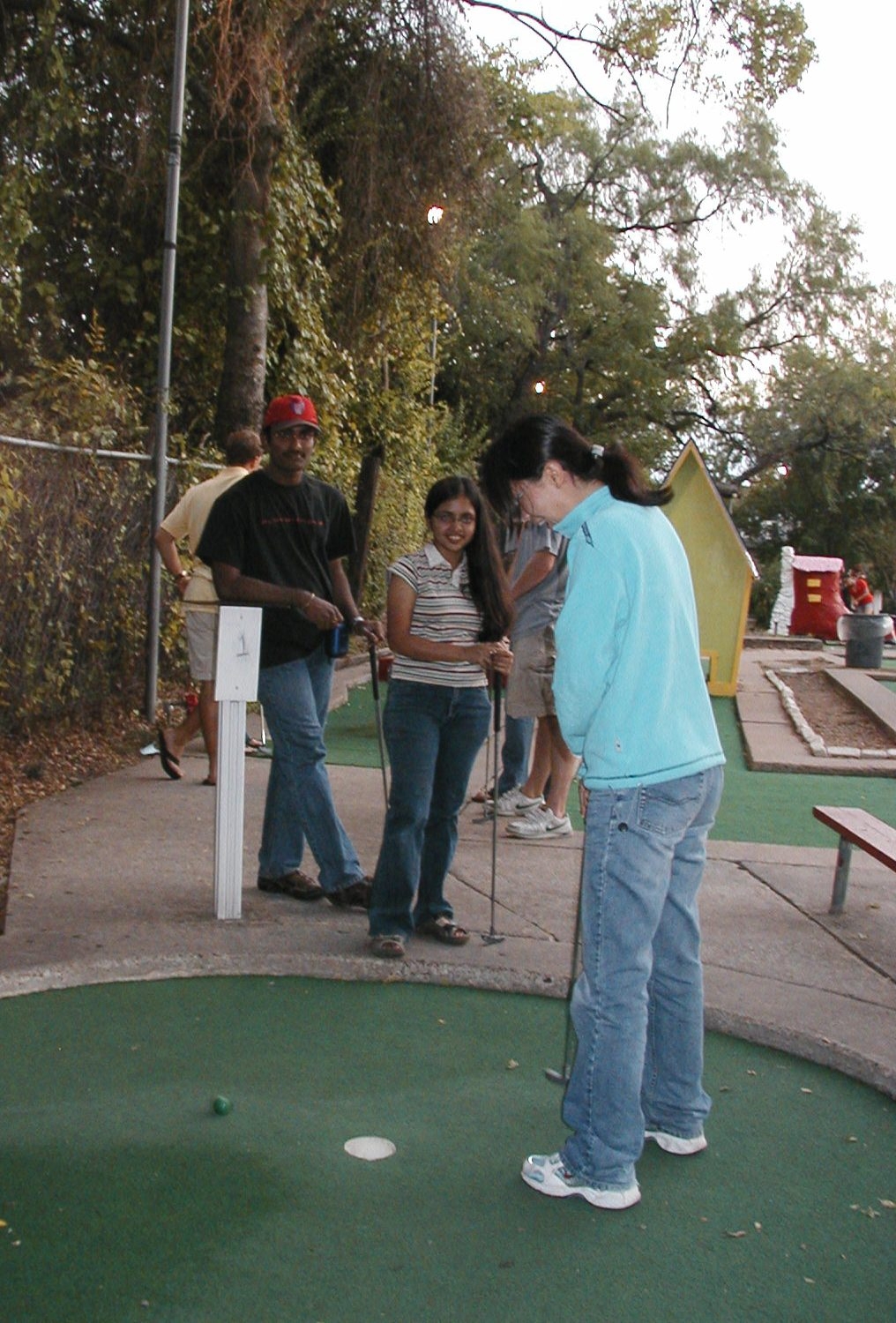 Peter Pan miniature golf outing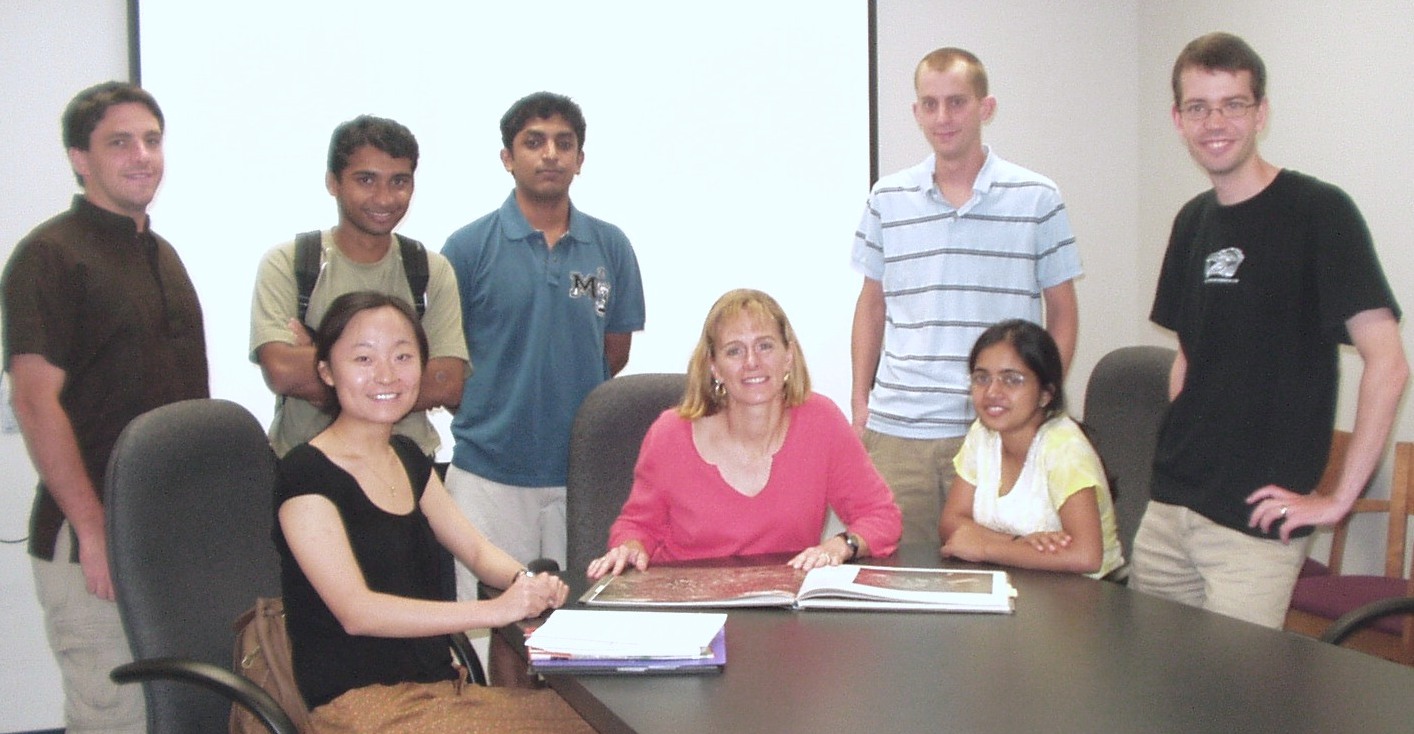 Standing, left to right: Brent Selby, Binny Paul, Sashank Musti, Jason Lemp, and Dan Fagnant. Seated, left to right: Yiyi Wang, Kara Kockelman, and Sumala Tirumalachetty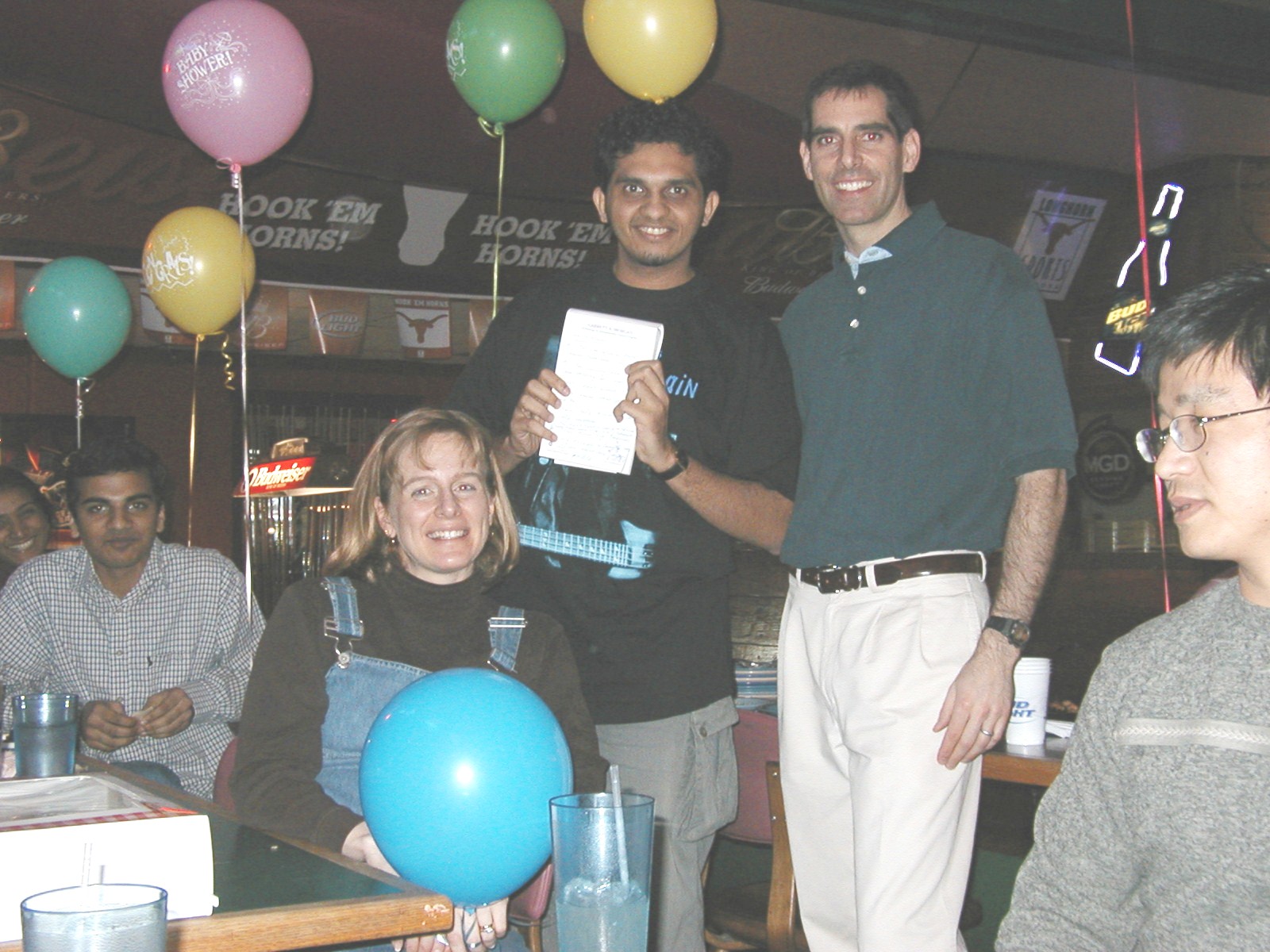 Kara Kockelman, Sukumar Kalmanje, Steve Rosen, Jianming Ma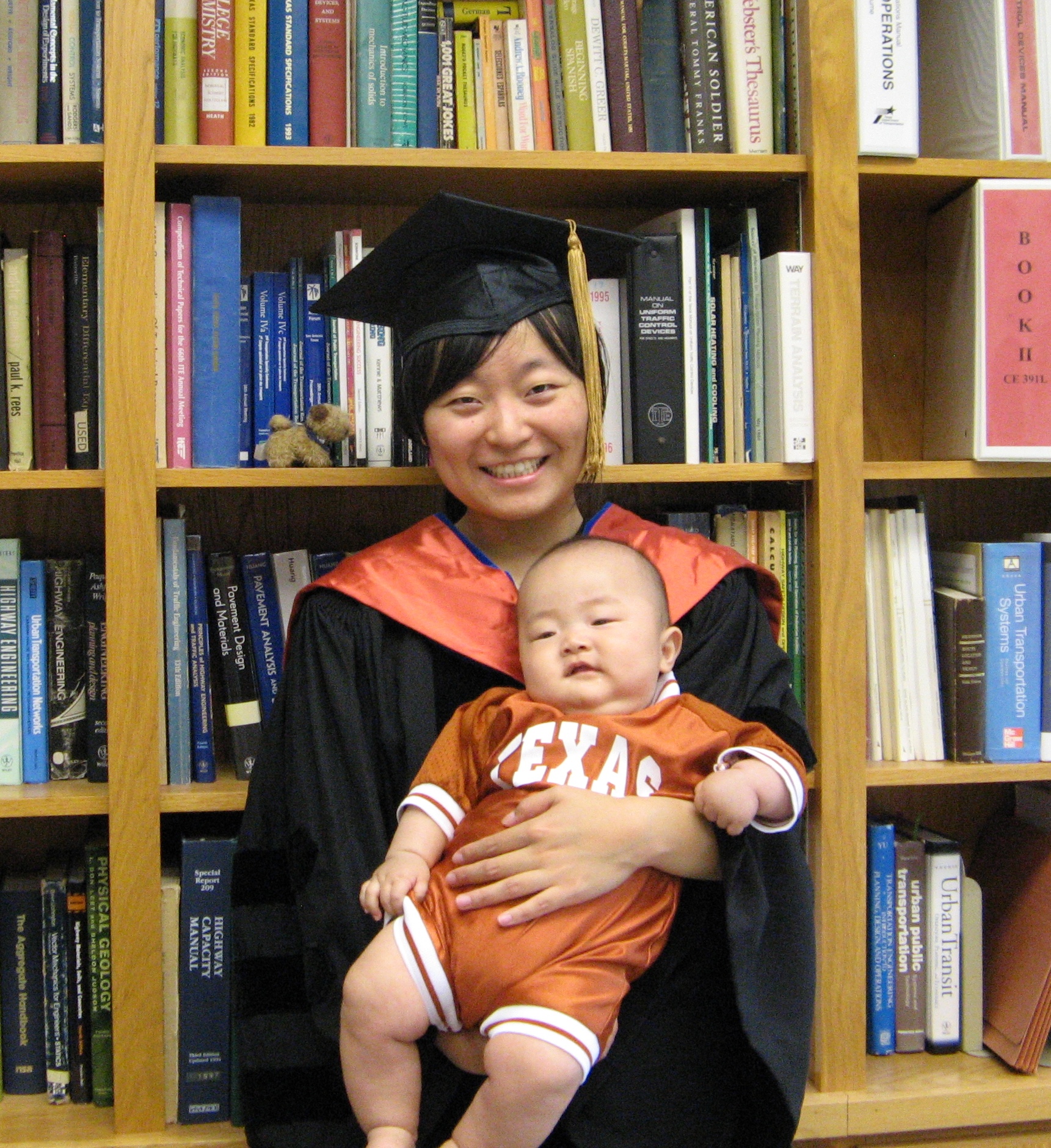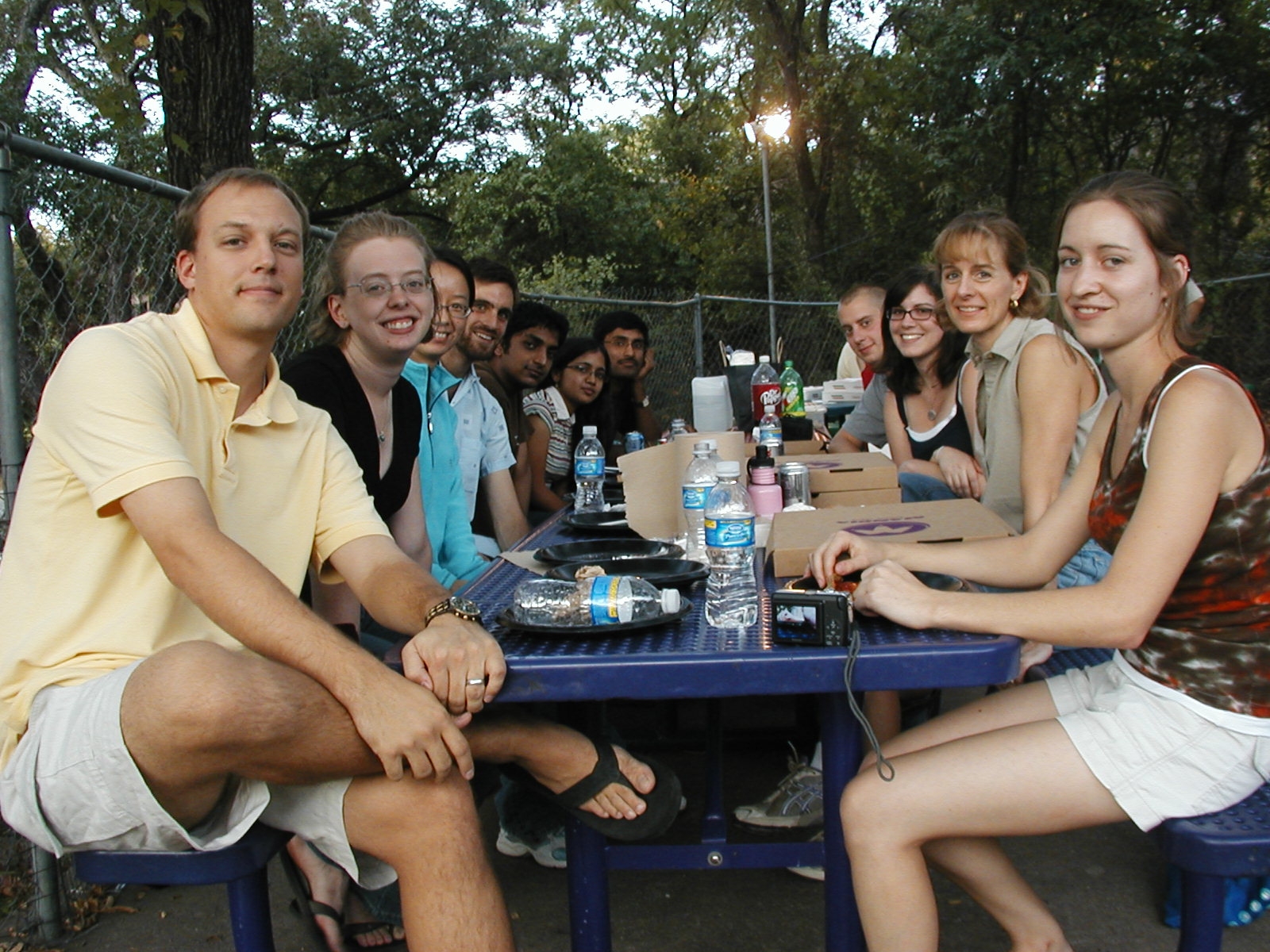 Enjoying Mangia's pizza at Peter Pan minigolf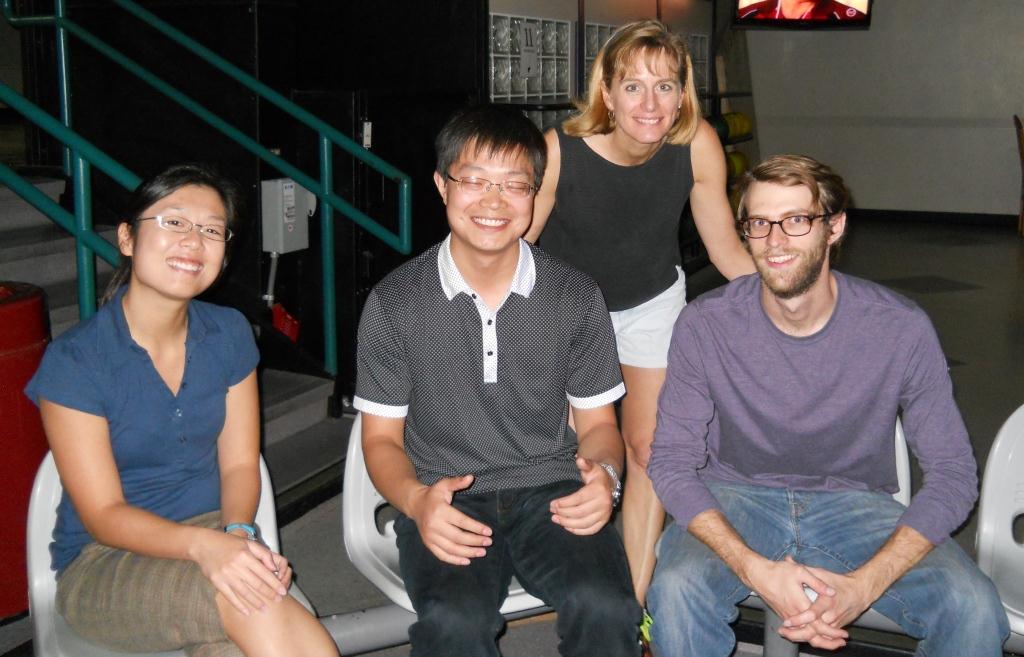 Donna Chen, Jian Xu, Kara Kockelman, and Brice Nichols at UT's Underground Bowling Alley (Nov. 2012)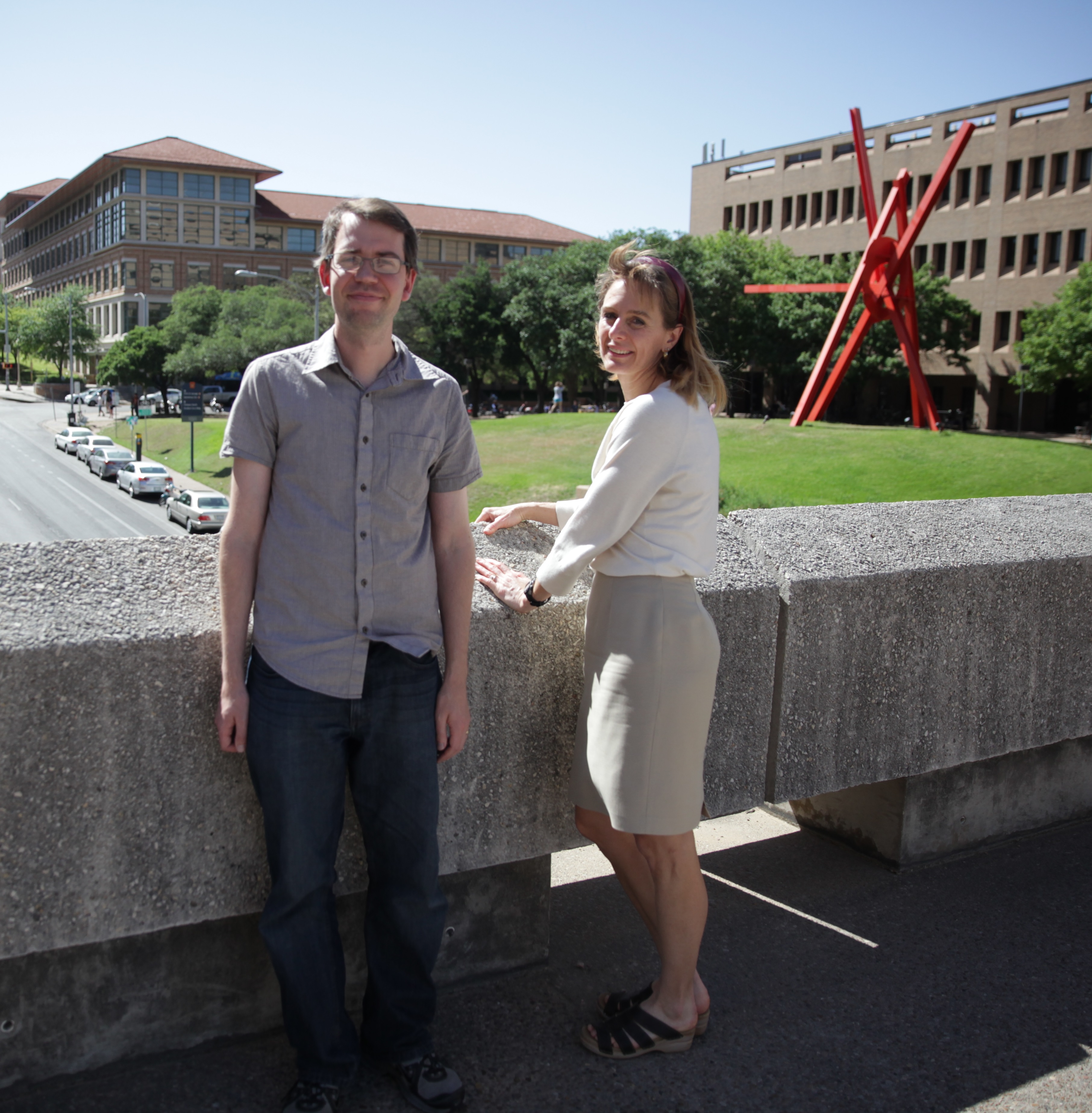 Dan Fagnant and Kara Kockelman on UT Breezeway for Daily Texan Article on shared autonomous vehicles (April 2014)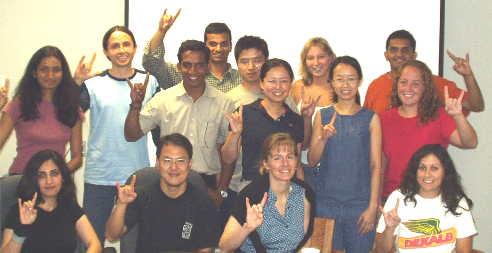 Standing, left to right: Surabhi Gupta, David Suescun, Shashank Gadda, Pradeep Gulipalli, Jianming Ma, Xiaokun Wang, Michelle Bina, Brenda Zhoue, Sukumar Kalmanje, and Jamie Reckinger. Seated, left to right: Shadi Hakimi, Jun Kweon, Kara Kockelman, Kaethe Podgorski (2005)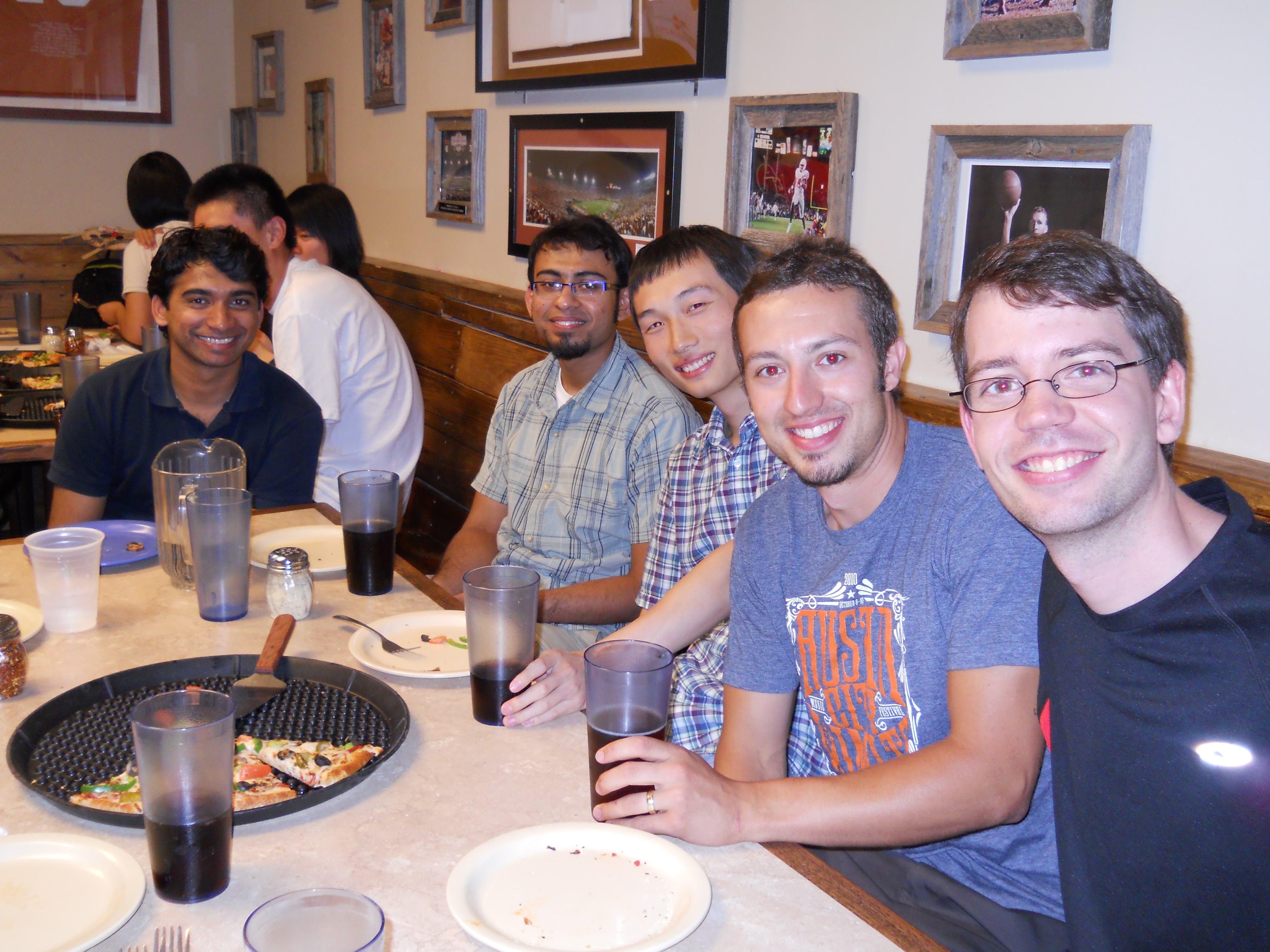 Binny Paul, Moby Khan, Shoupeng Tang, Tim Dietrich, and Dan Fagnant chowing down at Double Dave's Pizza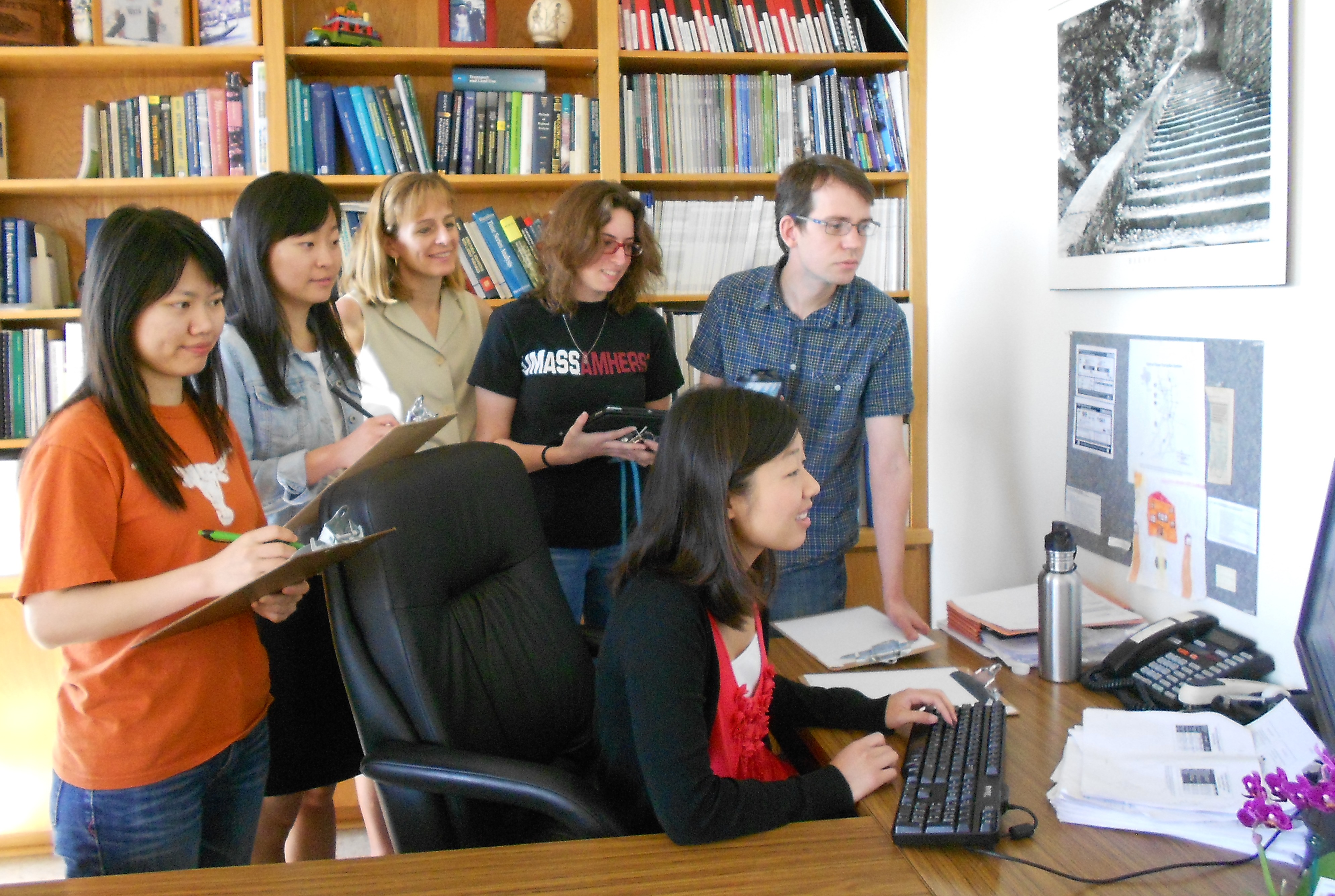 Xiaoxia Xiong, Yiyi Wang, Kara Kockelman, Aria Berliner, Donna Chen (seated), and Dan Fagnant (2012)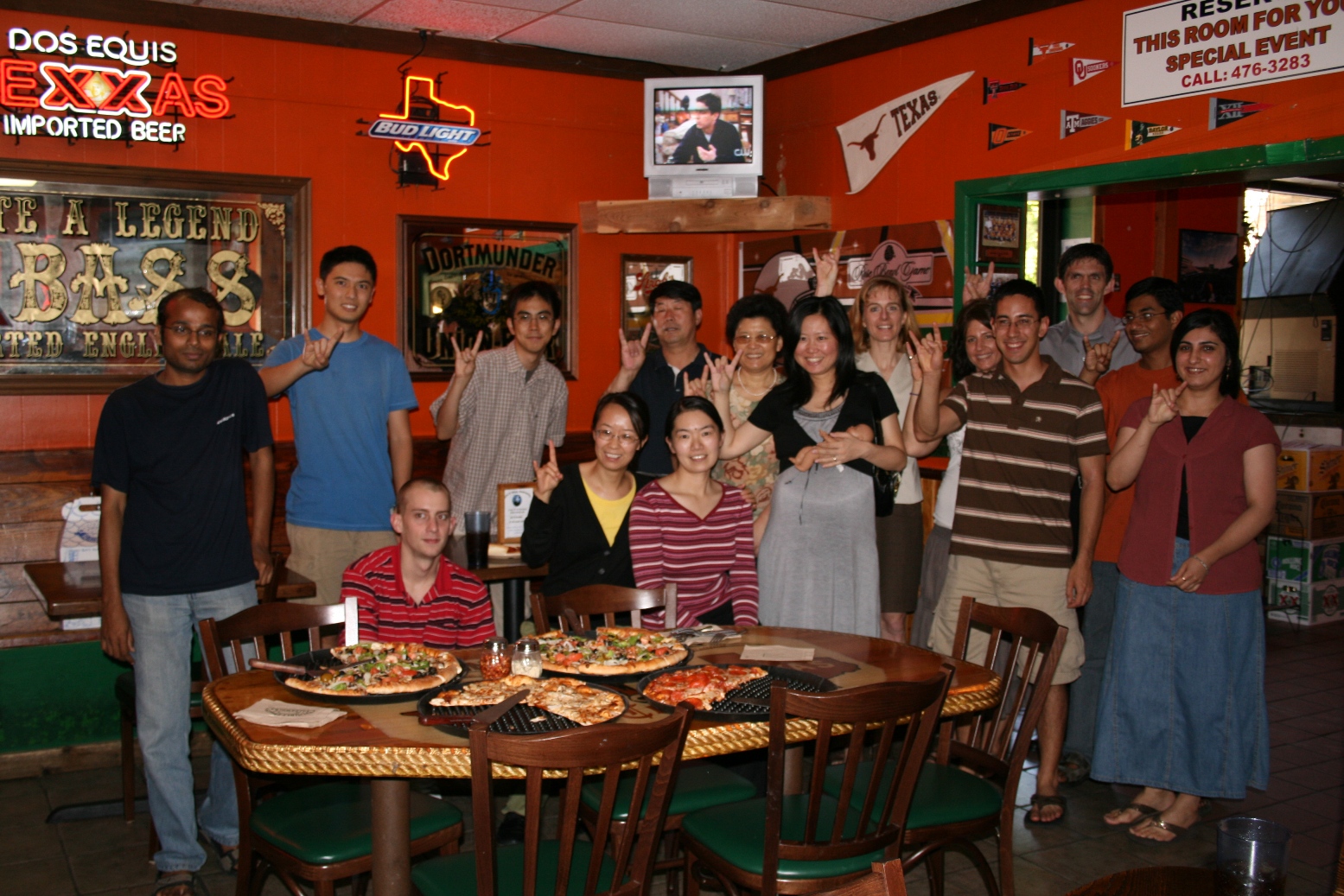 Saurabh Kumar, Rui Gao, Jason Lemp, Takuya Maruyama, Brenda Zhou, Father of Xiaokun Wang, Zheng Li, Mother of Xiaokun Wang, Xiaokun Wang, Kara Kockelman, Natalia Ruiz-Juri, Steve Boyles, Jared Heiner, Varun Valsaraj, Shadi Hakimi (May 2007) (photo includes graduates, friends, and family)
Online videos: https://vimeo.com/167300764 (USDOT Fast Forward interview regarding autonomous vehicle capabilities & benefits, January 2016)