---

CE367 Design Class Thank You to sponsors (March 2017)
Mr. Krishna "Murthy" Gurumurthy, MS Student
ECJ B.120
gkmurthy10@gmail.com

Murthy Gurumurthy received his B.Tech in Civil Engineering from the National Institute of Technology Karnataka, India in 2016 and landed in UT in mid-August. His area of interest is traffic modeling and simulation, and he codes in several programming languages. At UT Austin, Murthy has started working on a TxDOT-sponsored research project regarding shared autonomous vehicles, dynamic ride-sharing, and regional simulations of Austin. He hopes to serve to the community through thoughtful modeling. Learn more about Murthy at https://ctr.utexas.edu/2017/03/20/student-spotlight-krishna-murthy-gurumurthy/.
Max Bernhardt, MS Student
maxebernhardt@utexas.edu†

Max Bernhardt is in his first year of a Masters in Community and Regional Planning. After receiving his BA in Government from UT Austin in 2018, Max worked in renewable energy before returning to graduate school, focusing on sustainability in transportation and housing. He is working with Dr. Kockelman on a Pedestrian Crash Fatality Analysis for TxDOT, to identify factors that lead to pedestrian crashes as well as countermeasures to reduce pedestrian fatalities through design, planning and other improvements.
Yantao Huang, PhD Student
yantao.h@utexas.edu

Yantao Haung received his BS degree in transportation engineering from China's Central South University (CSU) in 2012, and his Master's degree in transportation engineering from Imperial College London. He then spent one year as a research assistant at Southeast University in Nanjing, China. He started pursuing his PhD at UT in January 2017, and is very interested in shared autonomous vehicles (SAVs), network simulations, and intelligent transportation systems (ITS). He has contributed to travel behavior modeling and analysis research under a TxDOT-sponsored research project on the topic of smart transport systems for Texas, NSF-sponsored work on sustainable transportation systems, and Argonne National Lab work on SAVs for first-mile last-mile services to rail lines.
Jooyong Lee, PhD Student
jylee3302@gmail.com

Jooyong Lee received his BS and MS degree in transportation engineering from Chung-Ang University, South Korea in 2014 and 2016, respectively. After receiving his master's degree, he worked as a research associate at the university's Transportation Engineering Lab. He began his doctoral studies at UT Austin in August 2017, and is interested in Connected & Autonomous Vehicles (CAVs), traffic modeling and simulations. He has worked on CAVs' emissions and energy impacts under different technology, pricing, and adoption scenarios; and is now studying smart evacuation of the Texas coast using SAVs, in the event of hurricanes and other disasters.
Duncan Anderson, MS Student
duncan.anderson@utexas.edu

Duncan Anderson is from Ithaca, NY, and received his BS in Applied Economics from Cornell University in 2011. He has worked in developing computational models and simulations for the energy industry, and is now pursuing an MSE in Operations Research at UT Austin. His research interest is in ridesharing fleet operations including infrastructure placement, idle reallocation, and shared vehicle routing. His research is funded by a GM Cruise via an NSF Industry-University Cooperative Research Centers grant.
Louis Alcorn, MS Student
loualcorn@utexas.edu

Louis Gerald Alcorn is a graduate student in Transportation Engineering in the Cockrell Engineering School. He completed his MS in Community and Regional Planning (CRP) degree in 2019 for which he produced a Master's Thesis report examining the integration between formal and informal transit services in Lagos, Nigeria. He also holds a bachelor's degree in Urban Studies and GIS from the University of California, Berkeley.†Prior to attending UT Austin, Louis worked as a transit service planner for Austin's public transit provider, Capital Metro, and previously as a financial analyst at the San Francisco Municipal Transportation Agency (SFMTA). In his professional experience, he focused on finding creative solutions to enhance coordination efforts across departmental/agency lines through the establishment of partnerships and working groups. He has a passionate drive to improve safe and accessible mobility options through data-driven prioritization of space-efficient travel modes.†Louis is currently working on an NCHRP report with Dr. Kockelman and Dr. Alex Karner (in the UT School of Architecture) that examines accessibility measures in practice among†transportation†agencies across the United States.
Matt Dean, MS Student
mattdean@utexas.edu

Matt Dean received his B.S. in Civil Engineering and minor in Urban and Environmental Planning from the University of Virginia in May 2019 and joined Dr. Kockelman's team upon entering the program in August. Matt became interested in a research career after working as an undergrad RA in seemingly every area of transportation (innovative concretes, crash analysis, public transit agency perceptions of TNCs and AVs, virtual reality testing for non-motorized modes). His area of interest at UT Austin is in scenario planning and traffic modeling of shared autonomous electric vehicles with an emphasis on integrating energy perspectives in transportation systems. Matt plans on expanding upon the scope of his NSF Graduate Research Fellowship Program (GRFP) research plan to incorporate complex non-uniform fleets in transportation modeling.
John Chen, MS Student
chichihchen13@gmail.com

John Chen received his B.S. in Architectural Engineering and B.A. in Japanese Culture and Language from the University of Texas in Austin in 2018. He had spent as much time living in East Asia (Taiwan, Japan) as he had in the Americas (Austin, Belize). In the field of Transportation, John is interested in transit systems and non-motored mode of transportation. He is currently working under Dr. Kockelman on a TxDOT-funded project regarding risk factors concerning increasing fatal pedestrian-car collisions and seeking countermeasures to reverse the trend.
Many undergraduate students have worked & are working on research projects under Dr. Kockelman's supervision. These include Jugal Amodwala, Albert Coleman, Caroline Leonard, James Lentz, Devin Wilkins, Jeffrey Hahm, Mike Hernandez, Tejas Choudhary, Ruohan Li, Lewis Clements, Aqshems Nichols, Scott Schauer-West, Kevin Pappas, Zelleny Lozano, Brad Caponigro, Matt Reiter, Rydell Walthall, Brice Nichols, Jonathan Lumang, Jay Chmilewski, Amy Neskar, Joy Chen, Anne Hulsey, Andrea Debee, Charlotte Whitehead, Matt Bomberg, Melissa Thompson, Robin Lynch, Kristin Donnelly, Travis Dunn, Mike Reyes, Iris Lin, Alexander Marks, Curtis Bouldin, Renee Pean, Daisy Esquivel, Jeff Easton, Victor Long, Atul Magoon, and Sze Ki (Silky) Wong.
Maizy Jeong, BS Student
maizyjeong@utexas.edu

Maizy Jeong is a first-year undergraduate student at UT Austin. She is studying Environmental Science and hopes to graduate in May 2023. She was born and raised in Northern California and joined Dr. Kockelman's team as an administrative assistant in January 2020. During the school year, she also enjoys being a Radio DJ at the university's radio station. She is intersted in all aspects of environmental science, and will be declaring a track in the fall.
Past Graduate Students (& Post-doctoral fellows) - and their new coordinates...
Mr. Neil Quarles
MS Civil Engineering, 2017
City of Austin Transportation Department, Austin, TX
neilquarles@utexas.edu
Mr. Anant Pradhan
MS Civil Engineering, 2002
Cambridge Systematics, Inc.
University of Chicago Business School
Deceased, January 2007 (We Miss you, Anant!!)
Ms. Jamie Reckinger
MS Civil Engineering, 2005
Kimley-Horn and Associates, Austin, TX
jamiereck@gmail.com
Dr. Brenda (Bin) Zhou
PhD Civil Engineering, 2009
Assistant Professor, Central Connecticut State University, New Britain, CT
zhoubin@mail.ccsu.edu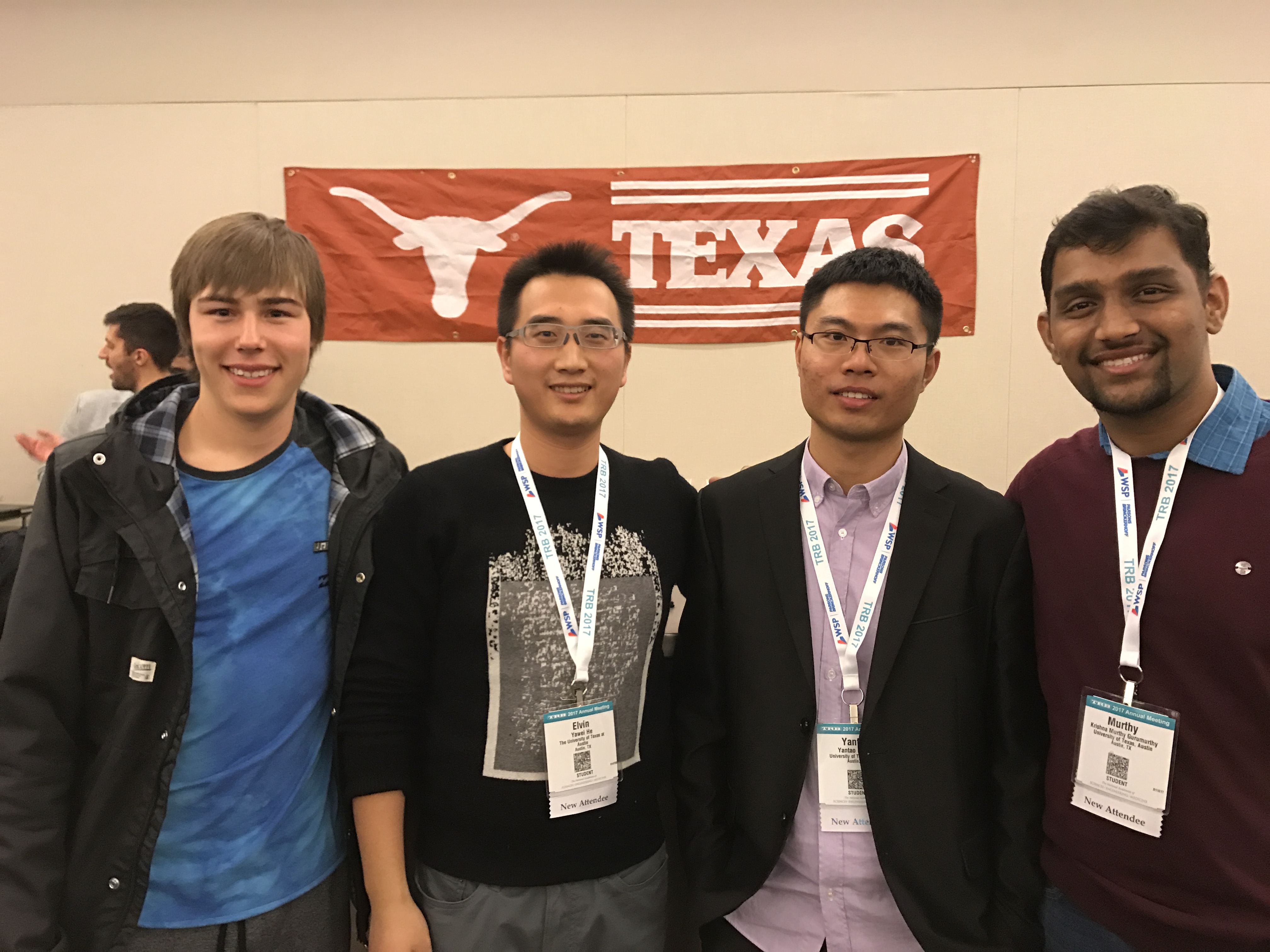 Scott Kilgore, Yawei He, Yantao Huang and Murthy Krishnamurthy at TRB 2017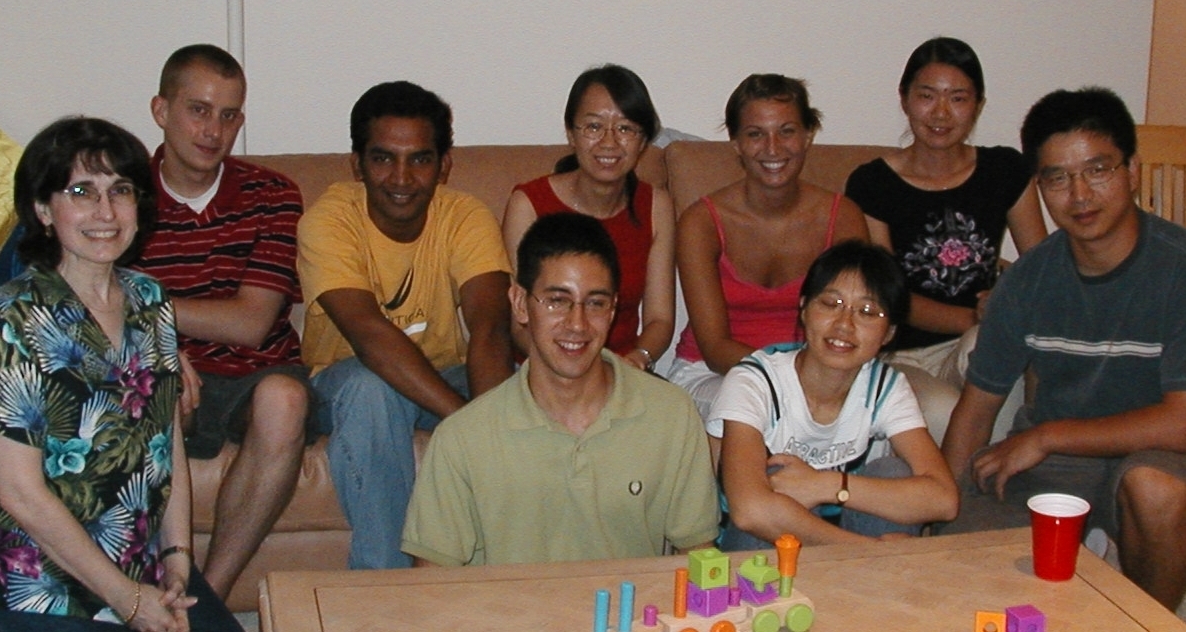 Back row, left to right: Jason Lemp, Shashank Gadda, Brenda Zhou, Laura Mcwehty, and Zheng Li.
Front row, left to right: Annette Perrone (admin. assoc.), Stephen Boyles, Tian Huang and Jianming Ma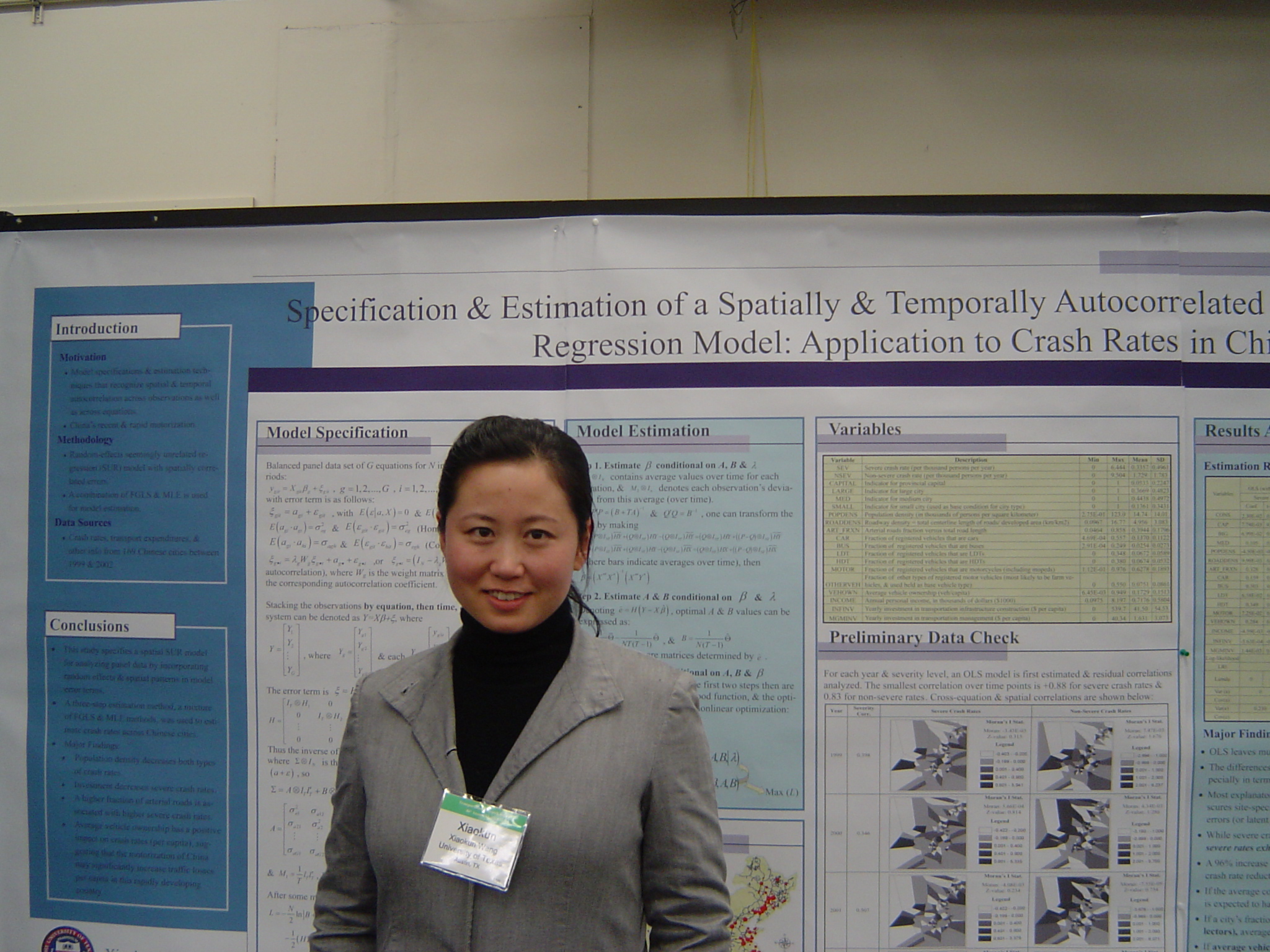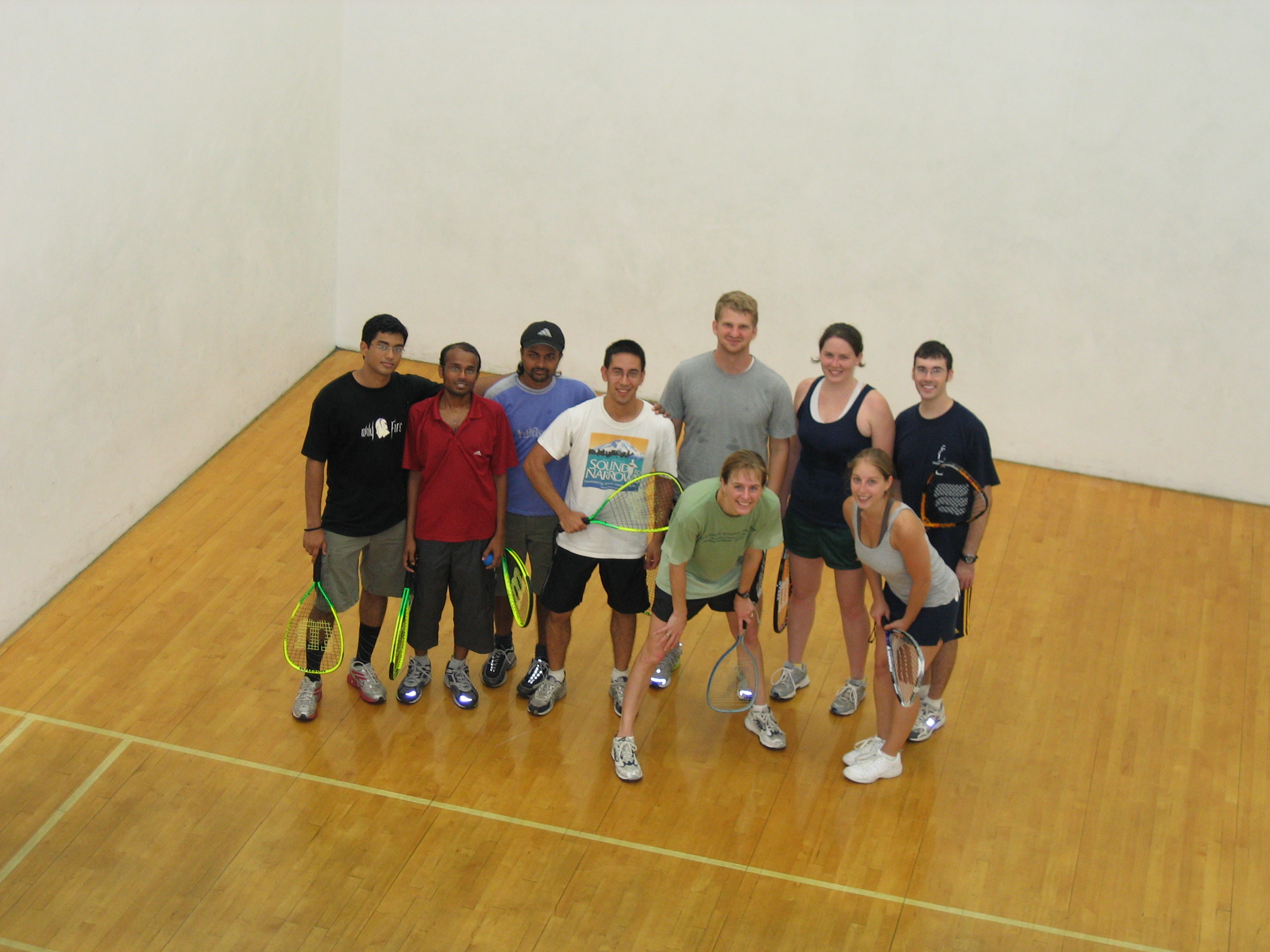 Racquetball tournament at Gregory Gym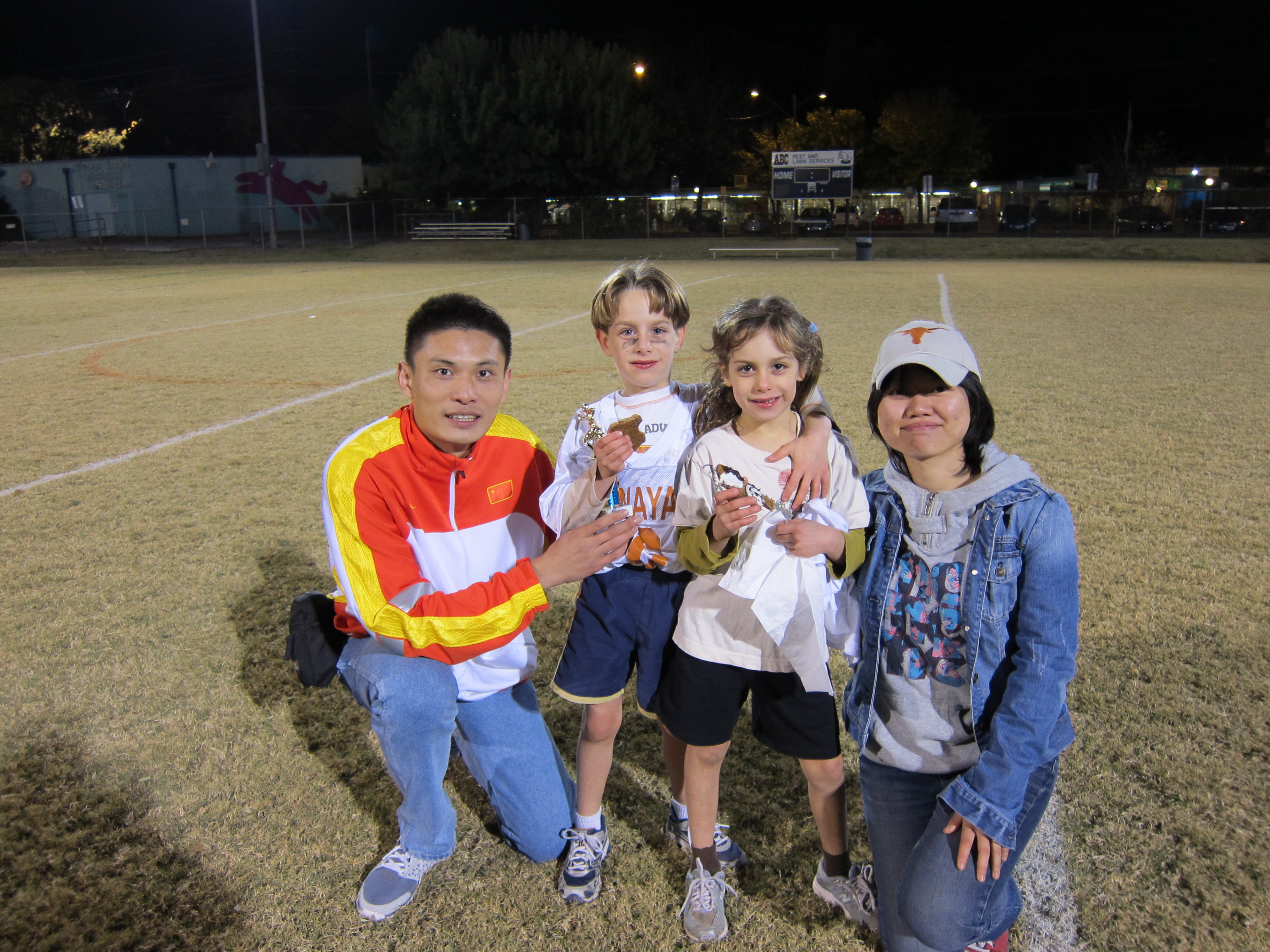 Flag Football Champs with Xiaokun Du and Xiaoxia Xiong (Nov. 2010)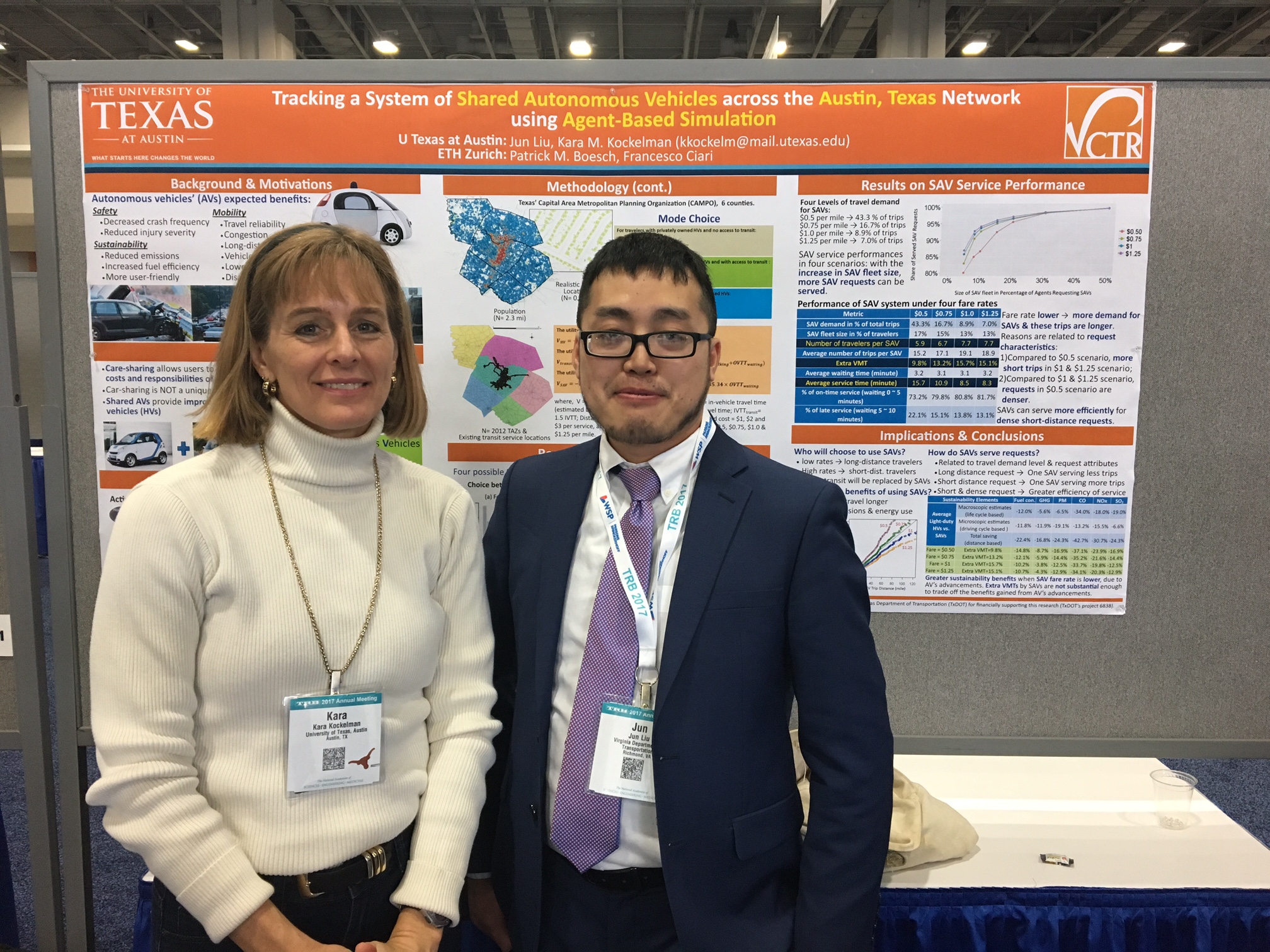 Kara Kockelman and Dr. Jun Liu at TRB 2017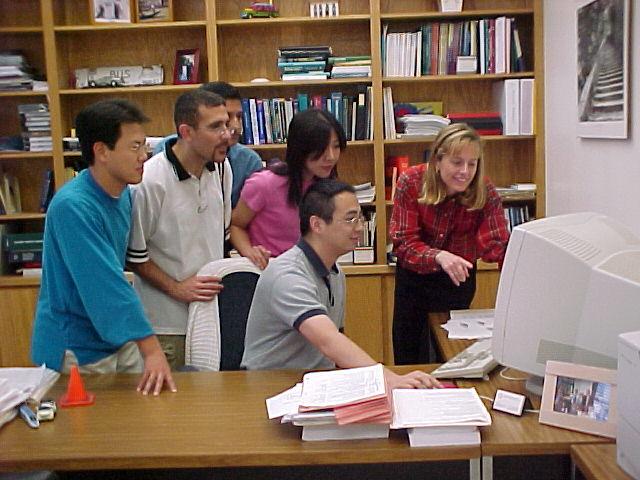 Jun Kweon, Issam Sour, Ling Jin, Yong Zhao, and Kara Kockelman (2000)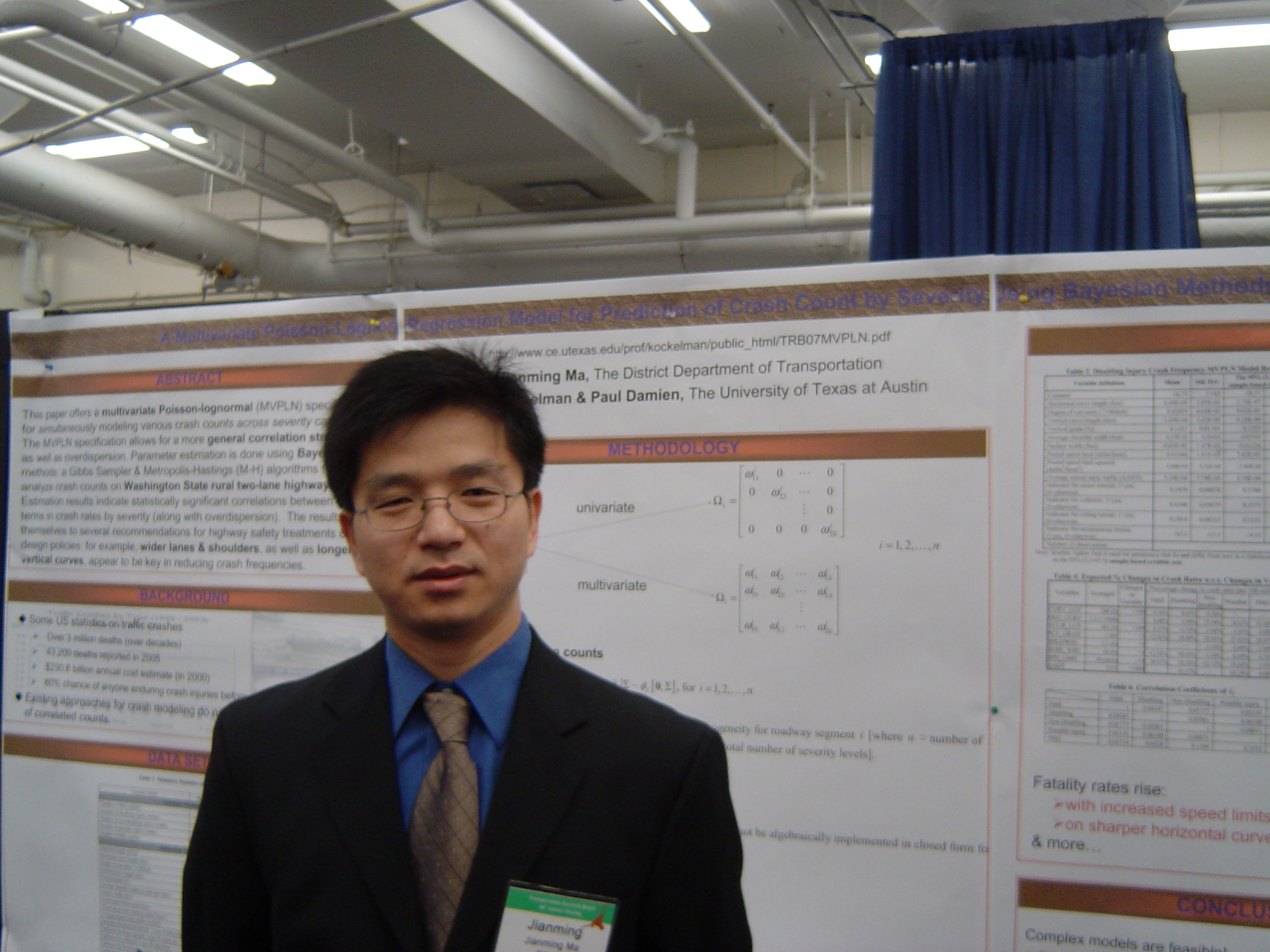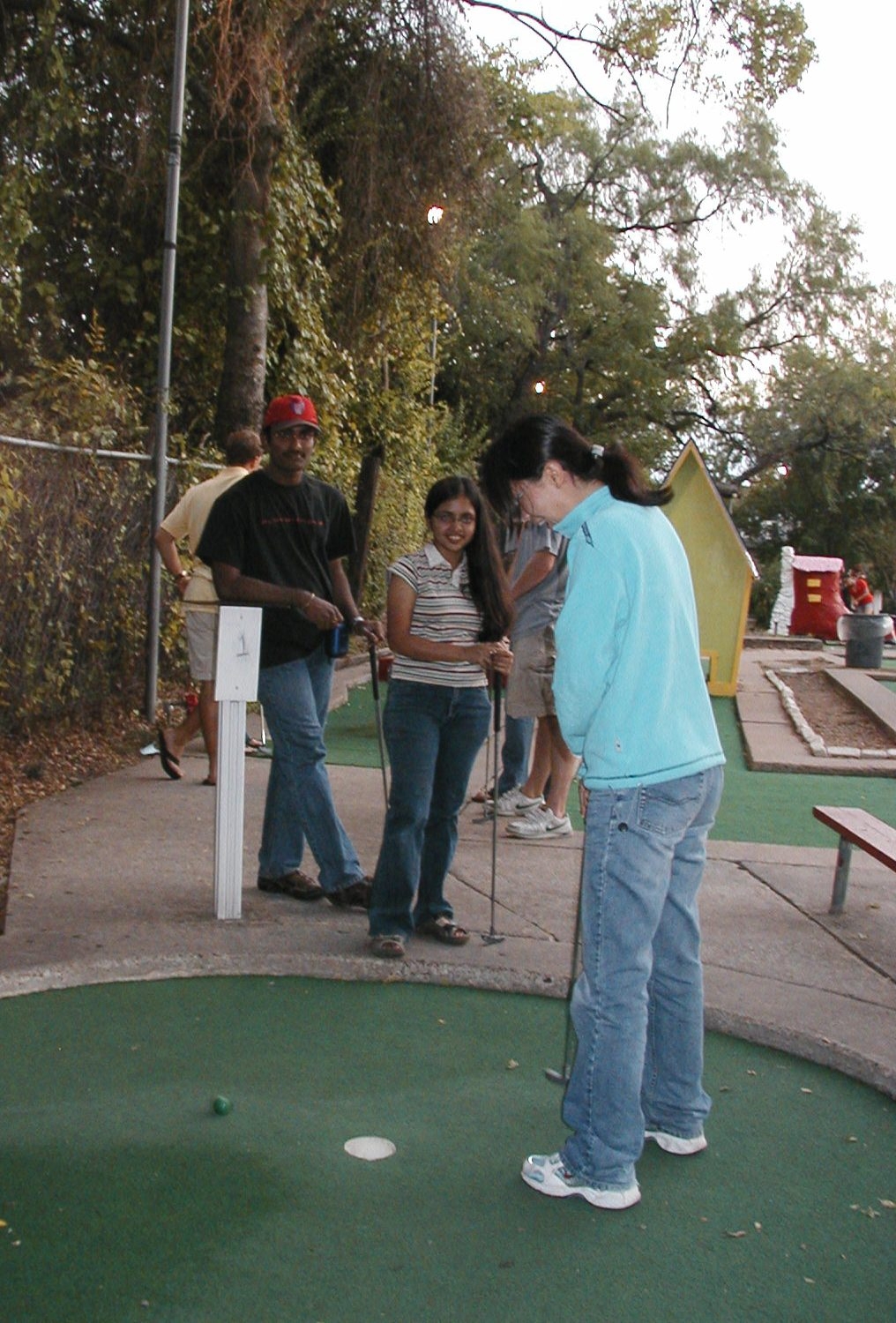 Peter Pan miniature golf outing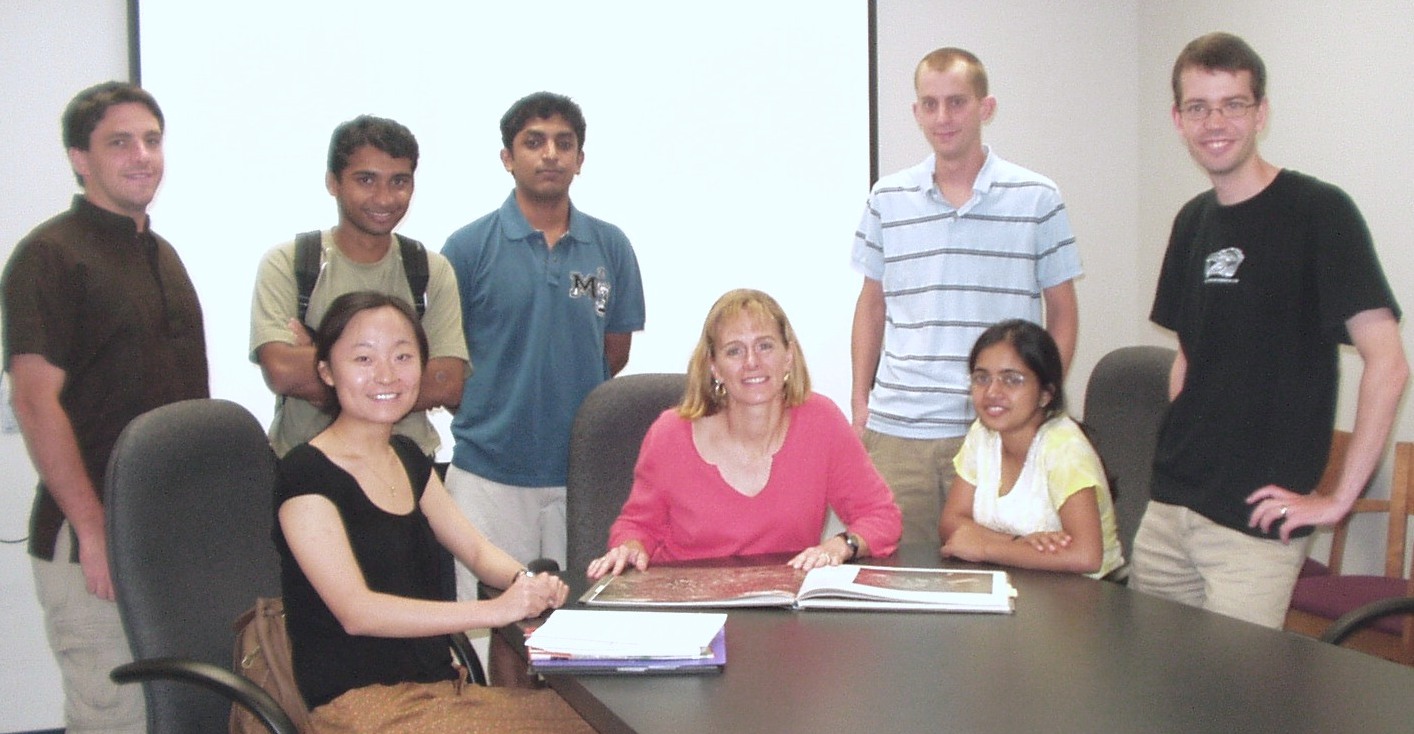 Standing, left to right: Brent Selby, Binny Paul, Sashank Musti, Jason Lemp, and Dan Fagnant. Seated, left to right: Yiyi Wang, Kara Kockelman, and Sumala Tirumalachetty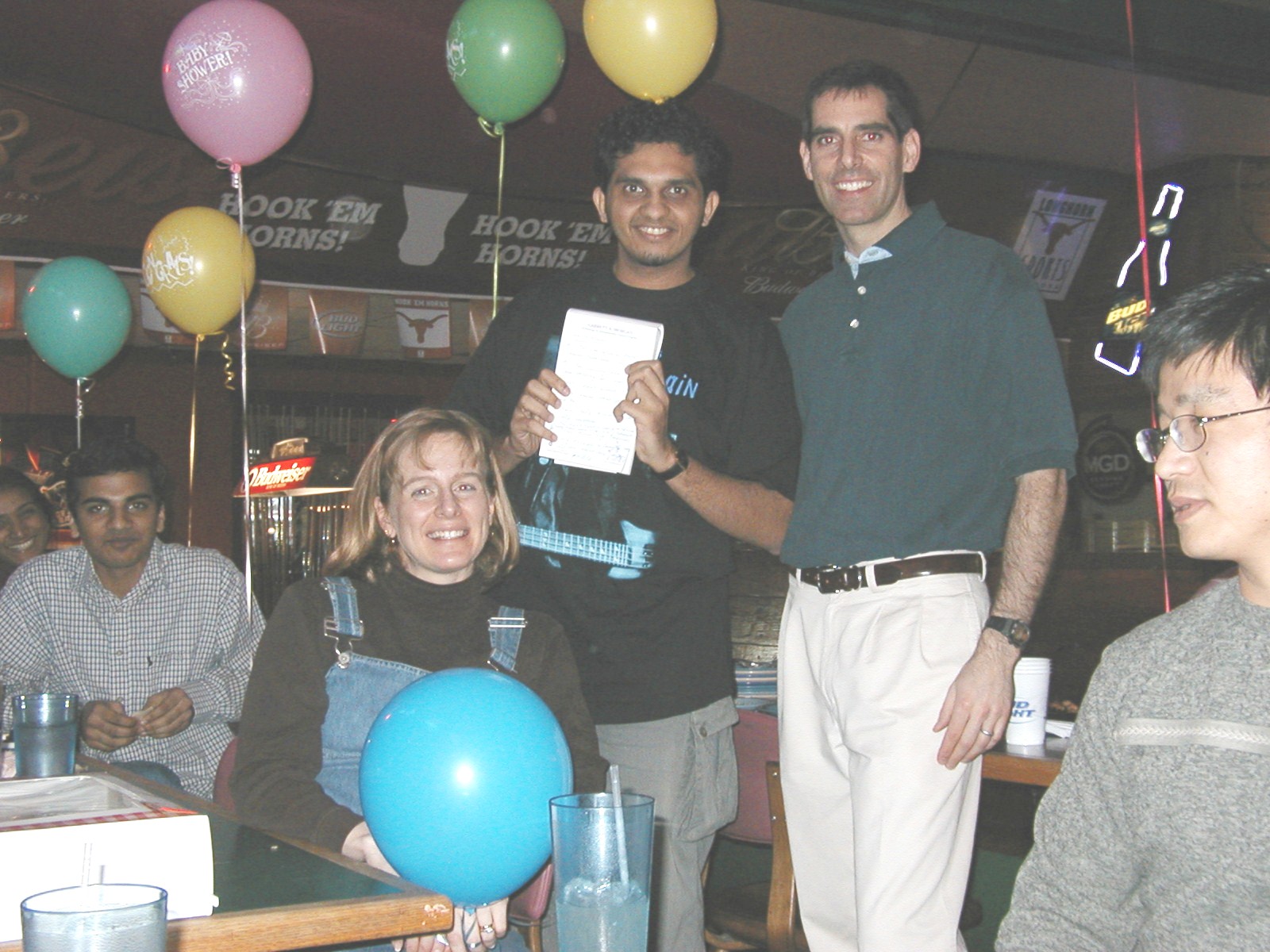 Kara Kockelman, Sukumar Kalmanje, Steve Rosen, Jianming Ma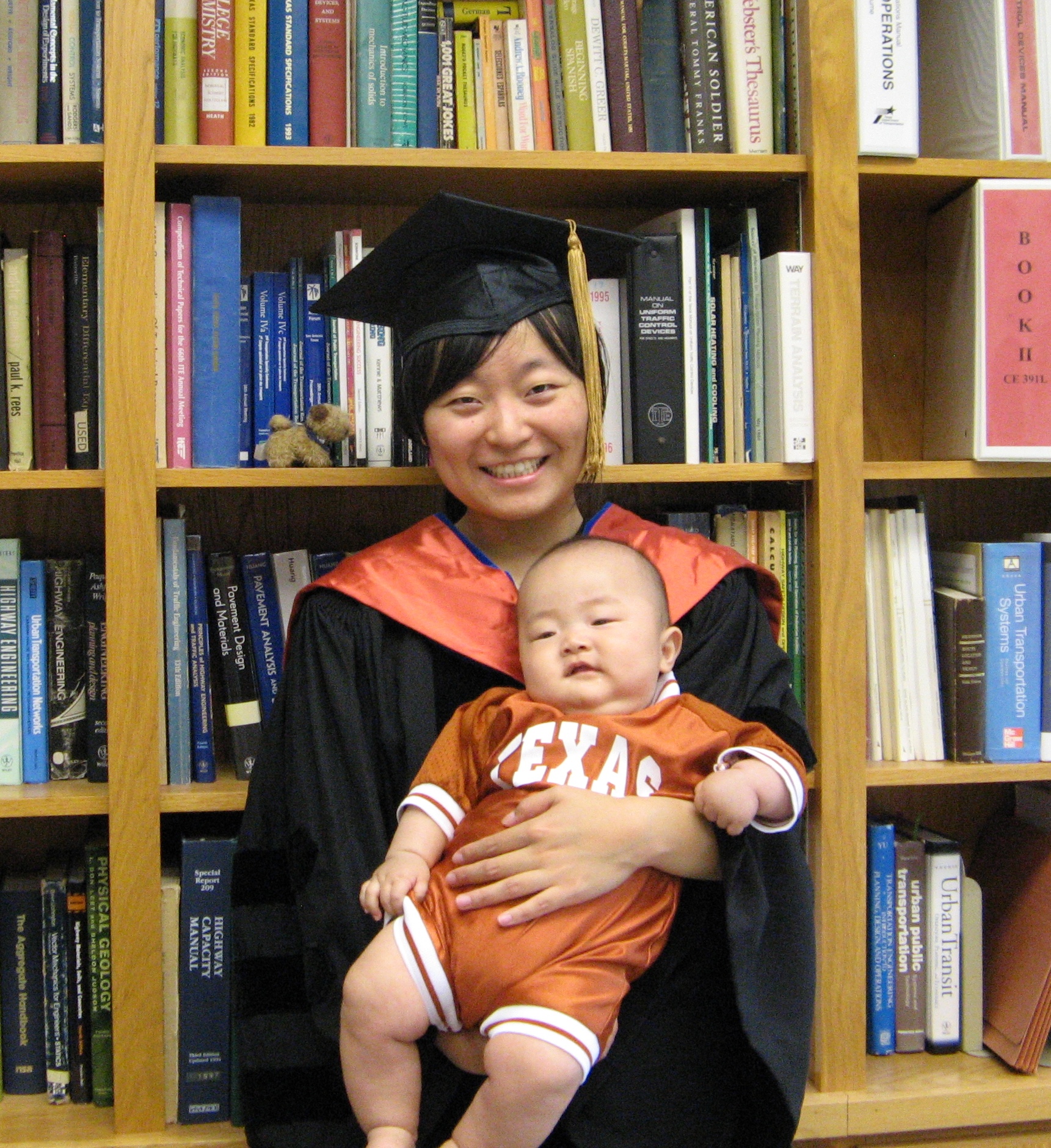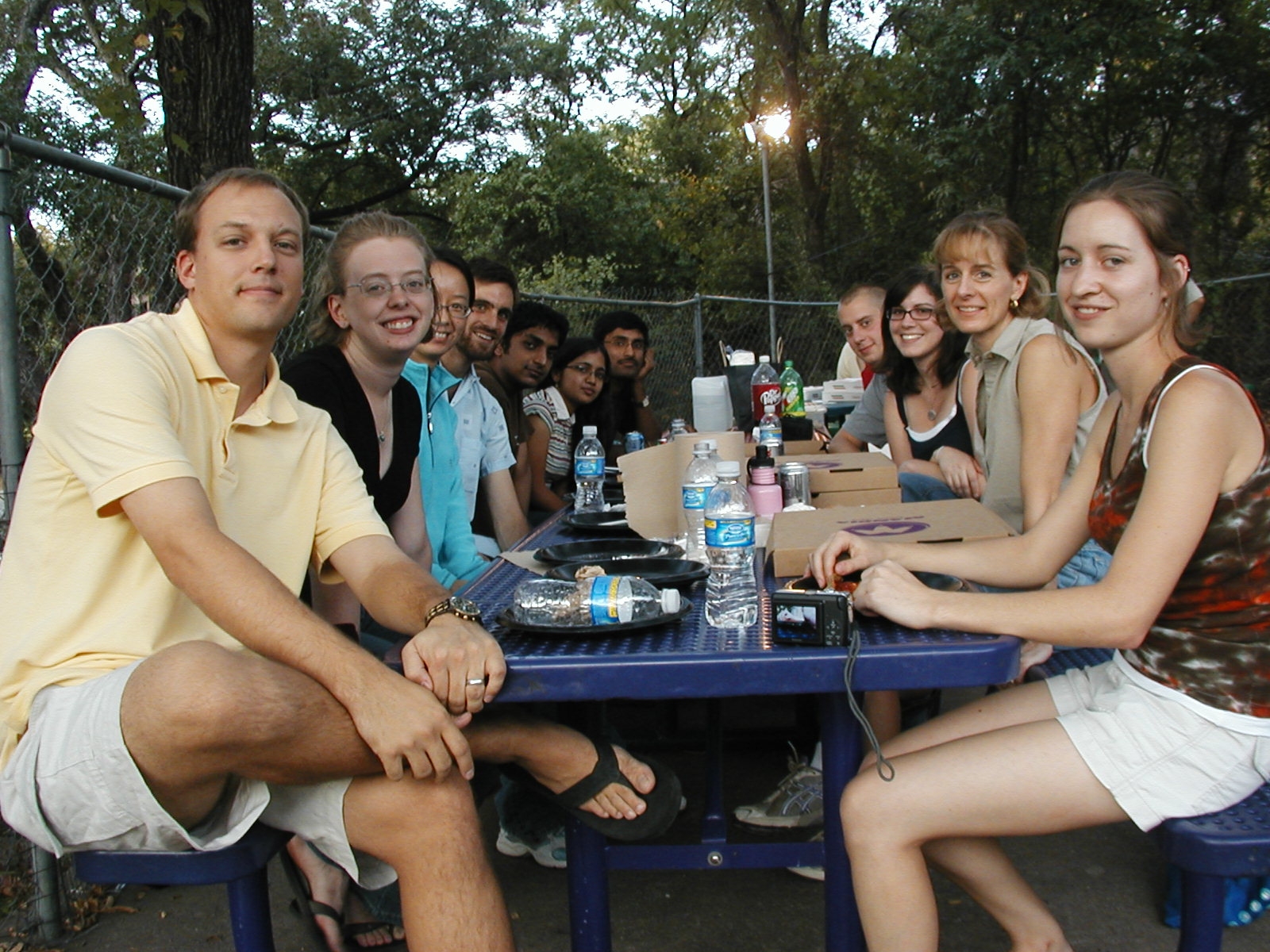 Enjoying Mangia's pizza at Peter Pan minigolf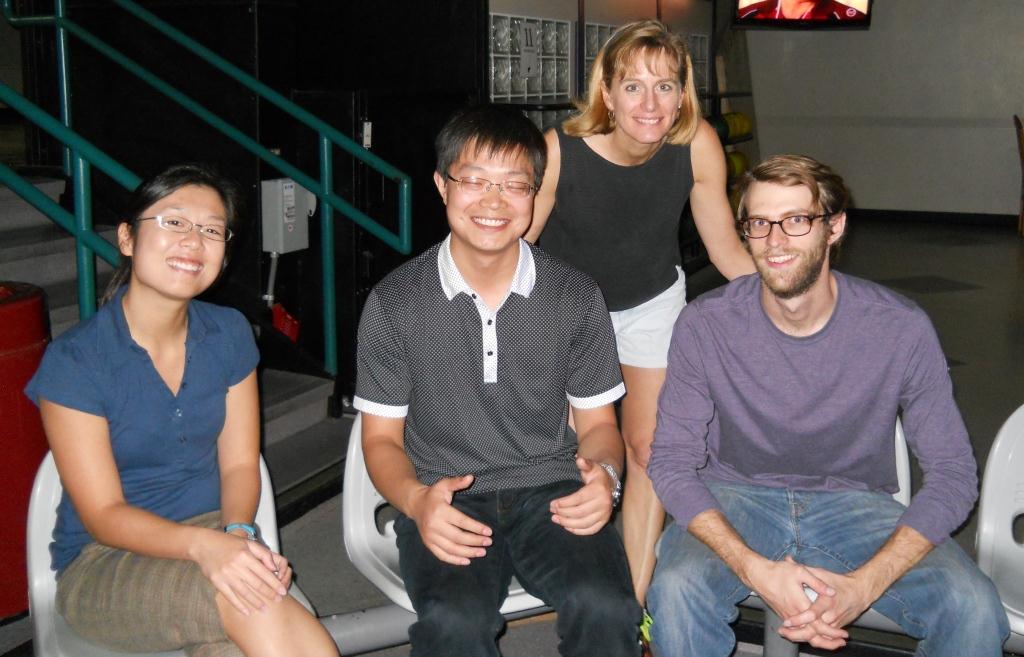 Donna Chen, Jian Xu, Kara Kockelman, and Brice Nichols at UT's Underground Bowling Alley (Nov. 2012)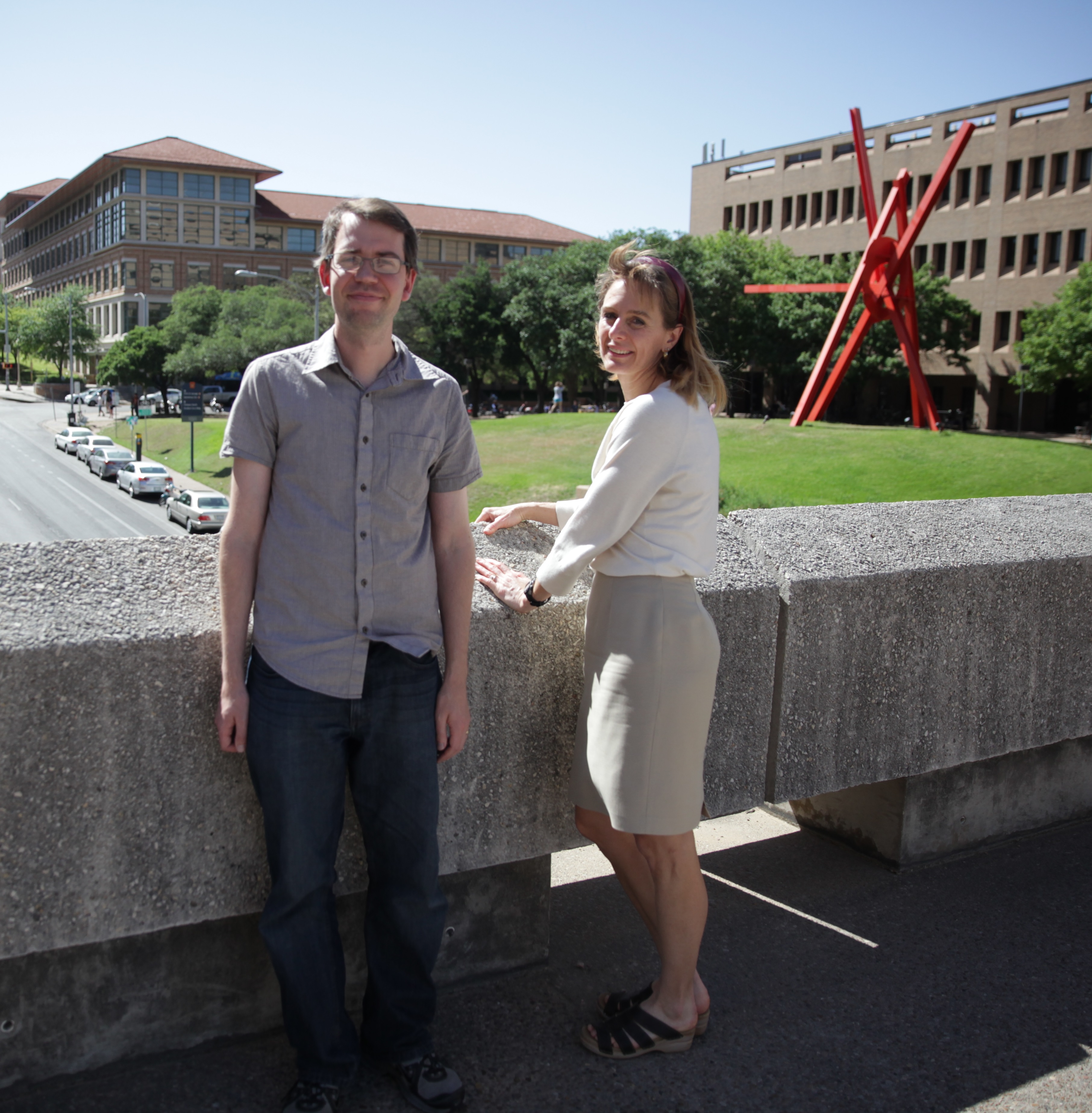 Dan Fagnant and Kara Kockelman on UT Breezeway for Daily Texan Article on shared autonomous vehicles (April 2014)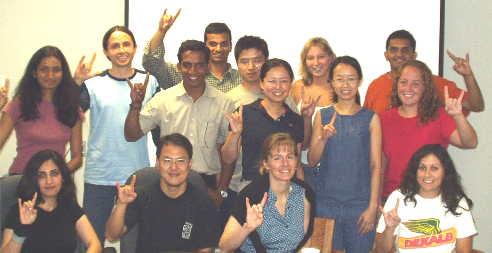 Standing, left to right: Surabhi Gupta, David Suescun, Shashank Gadda, Pradeep Gulipalli, Jianming Ma, Xiaokun Wang, Michelle Bina, Brenda Zhoue, Sukumar Kalmanje, and Jamie Reckinger. Seated, left to right: Shadi Hakimi, Jun Kweon, Kara Kockelman, Kaethe Podgorski (2005)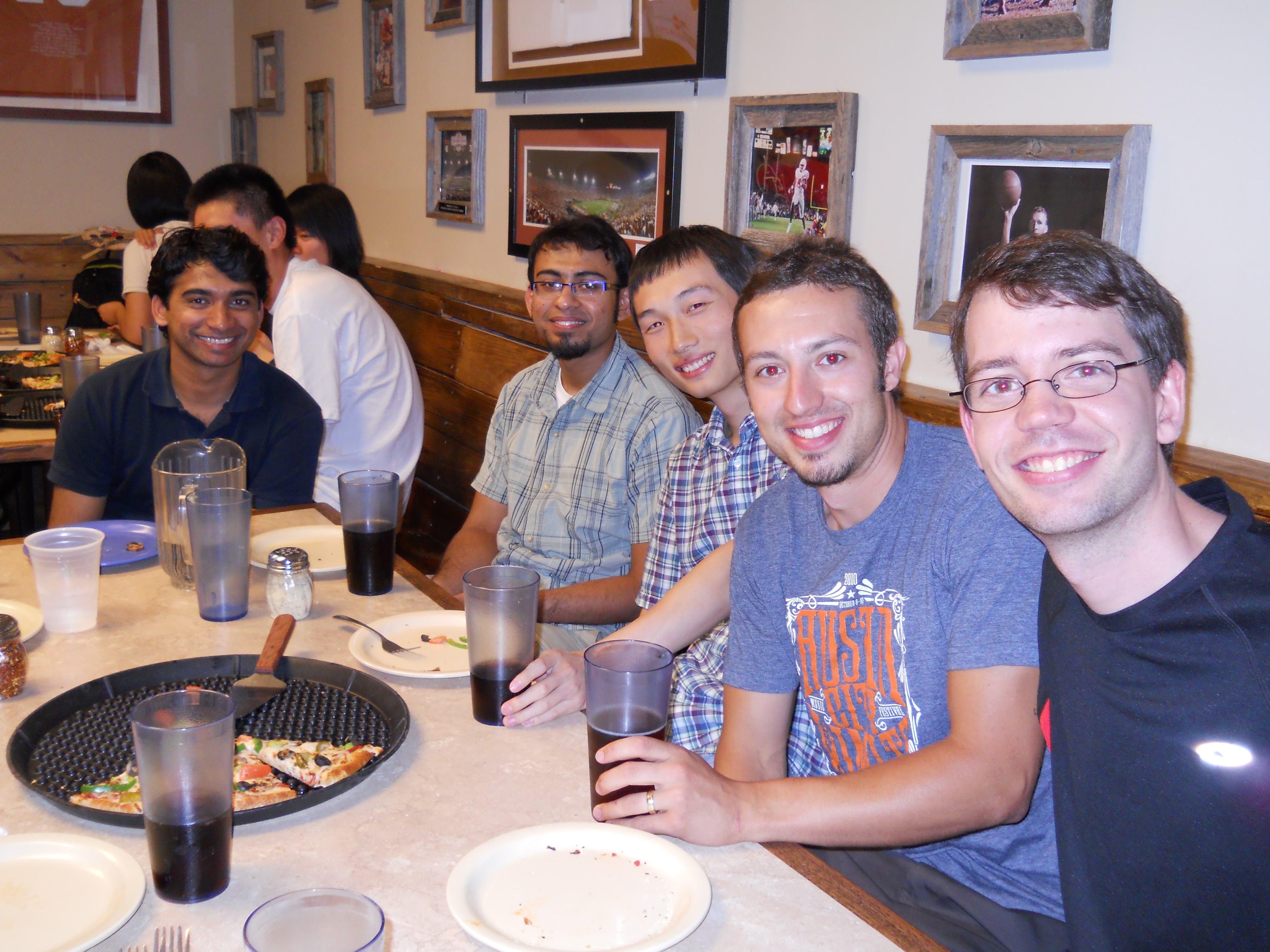 Binny Paul, Moby Khan, Shoupeng Tang, Tim Dietrich, and Dan Fagnant chowing down at Double Dave's Pizza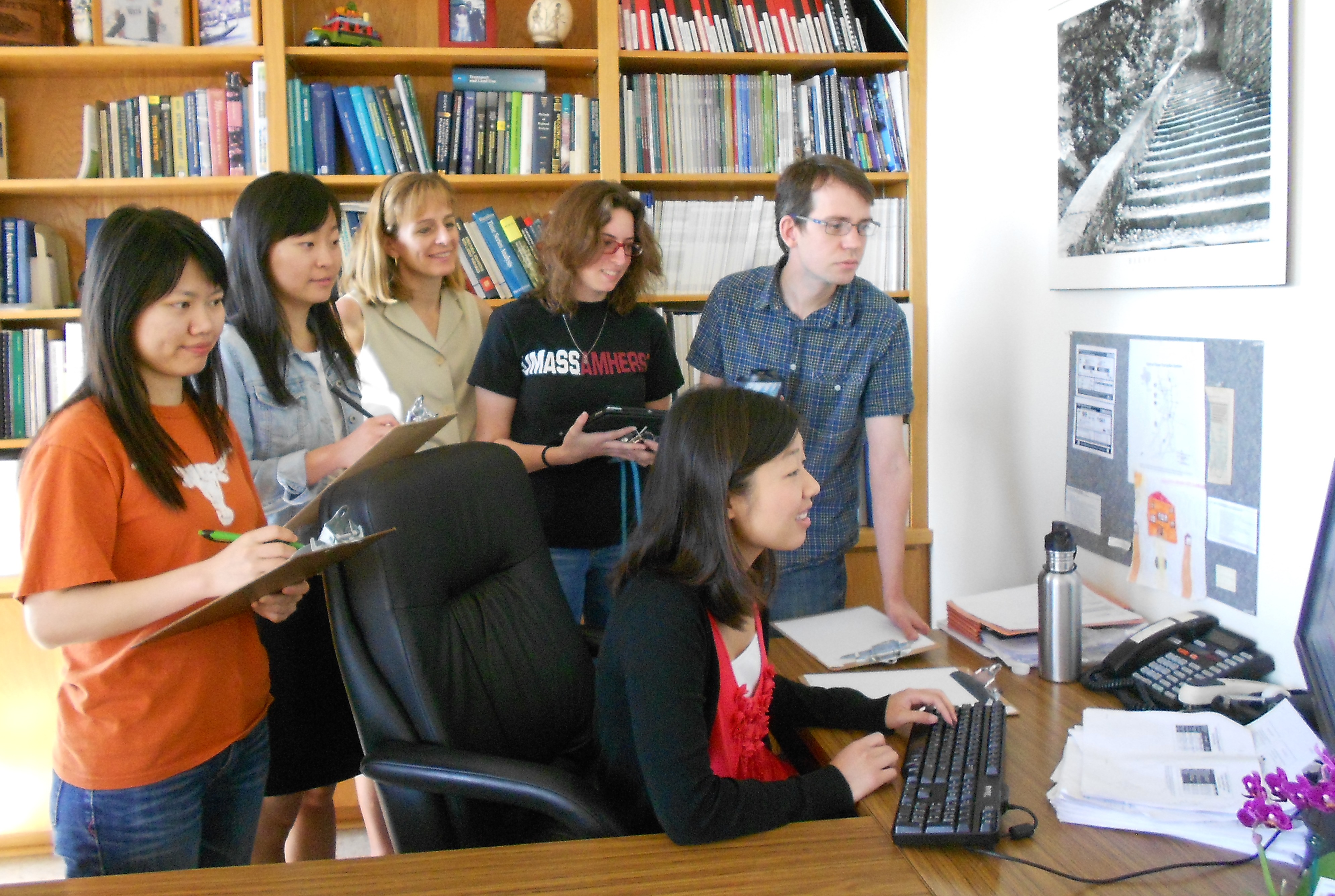 Xiaoxia Xiong, Yiyi Wang, Kara Kockelman, Aria Berliner, Donna Chen (seated), and Dan Fagnant (2012)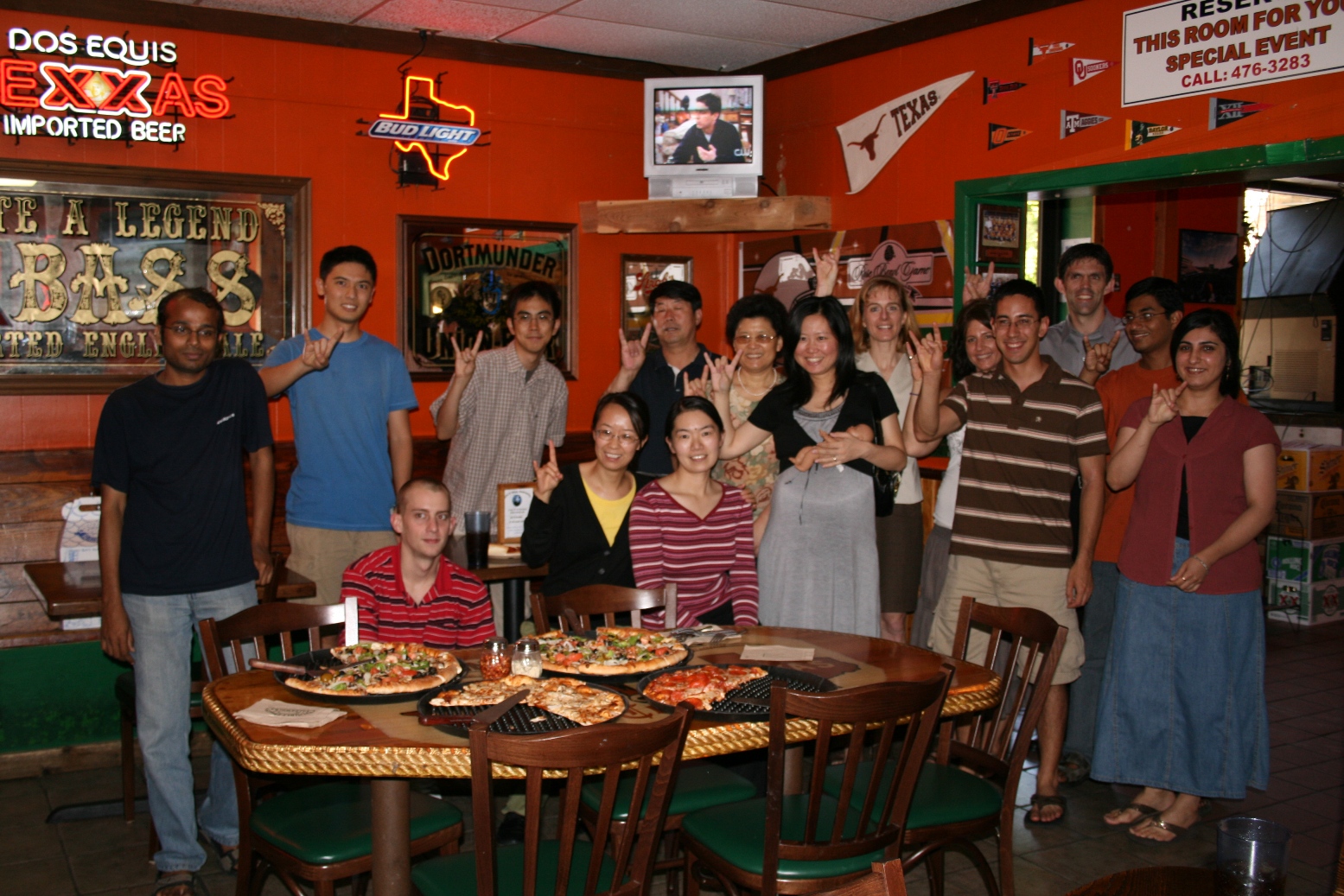 Saurabh Kumar, Rui Gao, Jason Lemp, Takuya Maruyama, Brenda Zhou, Father of Xiaokun Wang, Zheng Li, Mother of Xiaokun Wang, Xiaokun Wang, Kara Kockelman, Natalia Ruiz-Juri, Steve Boyles, Jared Heiner, Varun Valsaraj, Shadi Hakimi (May 2007) (photo includes graduates, friends, and family)
Online videos: https://vimeo.com/167300764 (USDOT Fast Forward interview regarding autonomous vehicle capabilities & benefits, January 2016)