Academy of Distinguished Alumni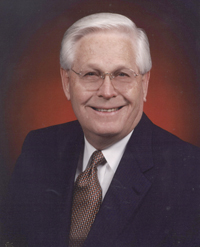 Arnold W. Oliver
B.S., University of Texas at Austin, 1960
Arnold Oliver's 33 years of distinguished public service at the Texas Department of Transportation, culminating in four years at the helm, began with an engineering education at the University of Texas at Austin. He graduated in 1960 with a B.S. degree in civil engineering.
At TxDOT, his first employer out of college, his career unfolded in a steady series of progressively greater responsibilities and achievements.
While a senior engineer in Wichita Falls during the mid-1960s, he pioneered applications of computer automation, producing the first set of state highway plans created entirely by automation. Ten years later, as resident engineer in Young County, he introduced the first integrated engineering/maintenance operation in the history of an agency which had traditionally maintained separate engineering and maintenance organizations. His innovation subsequently became the model for all districts statewide.
As district engineer for the Paris district, his attention to the dangerously deteriorated condition of the area's bridges resulted in much-needed funding for bridge replacement. As district engineer for Dallas, he expedited the long-stalled $500 million Dallas Central Expressway project and oversaw the design and planning of the city's first High-Occupancy Vehicle lanes.
In 1989 he was named to head the agency. He presided over a 15,000-employee entity with $1 trillion in assets and an annual budget of over $3 billion until his retirement four years later. Mr. Oliver launched a second career, with HNTB Corporation, in 1995. A longtime loyal supporter of the College, he served on EFAC from 1992-1998, and is a Friend of Alec. He was named a Distinguished Engineering Graduate by the College of Engineering in 2002.
Inducted November 7, 2003