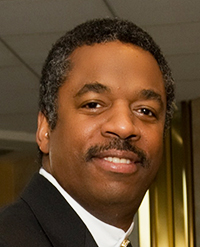 Richard B. Easley
BSCE., University of Texas at Austin, 1992
MSCE, University of Texas at Austin, 1994
Richard Easley has taken a leading role in the planning and deployment of Intelligent Transportation Systems or ITS on a national scale. His advancement of ITS has benefited the travelling public, Department of Transportation agencies, toll authorities, the freight industry, law enforcement and travel information providers. As founder and president of his own firm, E-Squared Consulting, he is currently growing his international reach and celebrating 20 successful years in business.
At UT, Richard also served as the ASCE President and served as a mentor for struggling students through the Equal Opportunity in Engineering program. A few years after graduation, he found his true calling when he discovered the world of transportation technology. He started a small firm with three employees and has been working alongside other transportation leaders around the globe ever since.
Richard's diverse expertise also includes program management, design, planning transportation and feasibility studies, and materials inspection and testing. His firm also provides ITS outreach education and training to federal, state, and municipal transportation agencies. His firm's interactive training program focuses on topics such as operations and maintenance, public transportation systems operations and deployment strategies.
Richard has served on a large number of committees for the Transportation Research Board (TRB), ITS America, The Institute of Transportation Engineers (ITE), the Commercial Vehicle Safety Alliance and more. He recently received a TRB Blue Ribbon Committee Award as Chair of the Intermodal Freight Transport Committee. He has also given technology presentations and workshops throughout the U.S., Asia and Europe. He said, "My greatest professional accomplishment has been when my colleagues or friends tell me that they learned something from me, that something I said stuck with them and made them a better professional or even a better person." Richard feels very strongly that to whom much is given, much is expected. He also gives back through mission work in Central America, Haiti and Africa.