Students from the University of Texas CAEE Seismic Design Team traveled to San Francisco, California in April to participate in the 2023 Undergraduate Seismic Design Competition. In this competition, which is hosted by the Earthquake Engineering Research Institute, student teams are required to submit RFPs in response to a prompt modeled around a real-world scenario. This year's problem statement required students to design skybridges connecting two new building structures.
This year, over 30 teams from across the globe showcased their design at the annual competition. The University of Texas team won the Charles Richter Award for Spirit of the Competition, tied in second place for architecture, and placed 5th for communications.
"This year's competition was the most challenging yet!" says Antony Sutanto, an Architectural Engineering senior. "It was amazing being able to design and analyze our own building while also seeing it built and tested. Collaborating alongside architecture, civil engineering, architectural engineering, and mechanical engineering students made the effort so much more fun with all the unique perspectives we bring to the table. I'm excited to see what is in store for the group going forward!"
Shruthi Dandamuni, a first year from the Mechanical Engineering department concurs: "The 2023 SDC competition was a collaborative, diverse, and an immensely rewarding experience. It was transformative as I got to expand my knowledge on seismic design and explore a deeper connection to the structural design world. The best part was watching our tower being tested after a lot of hard work as well as conversing with competitors from all over the world.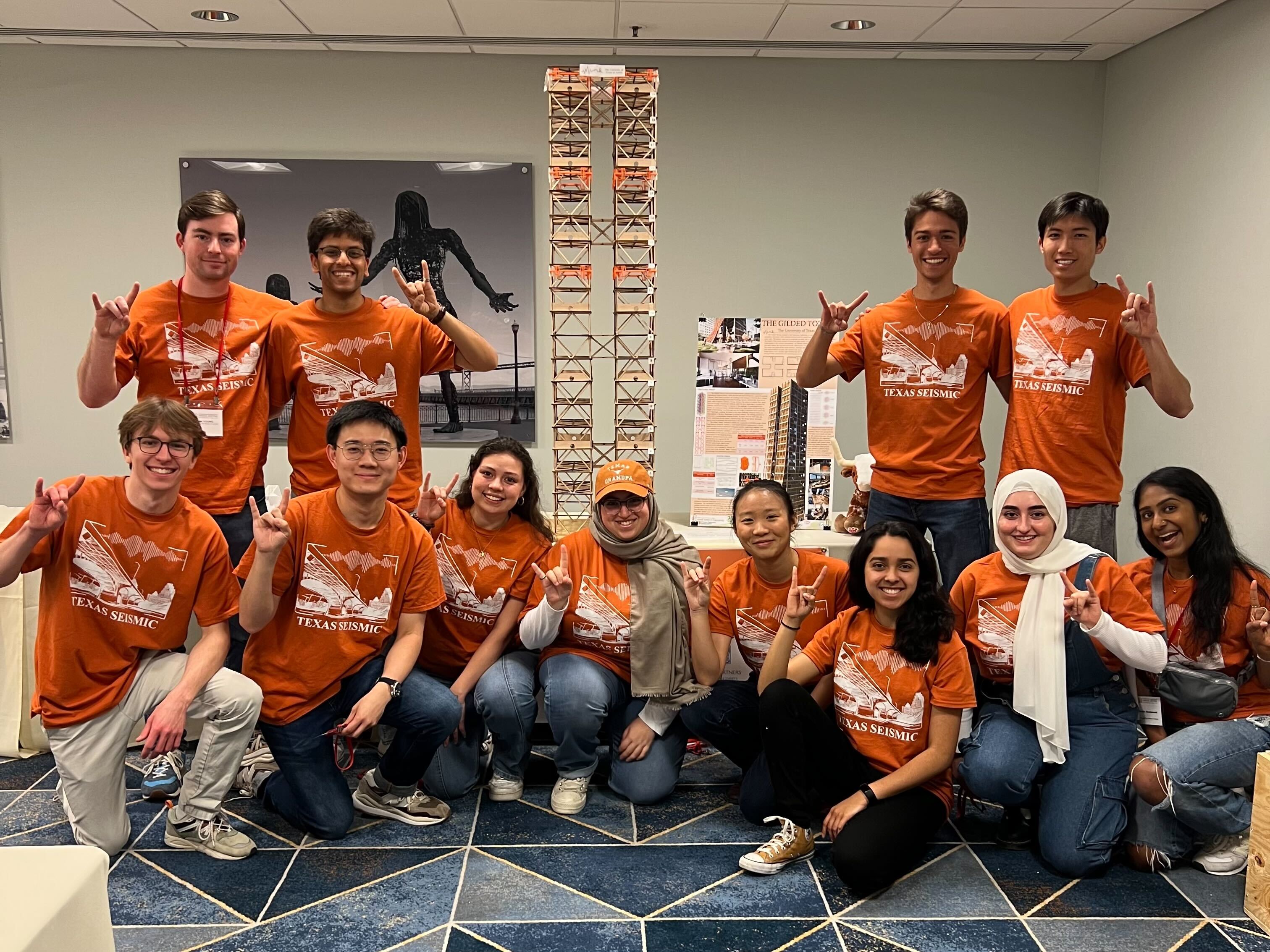 2023 UT Seismic Design Team:
Antony Sutanto (team captain)
Devin Young
Jonathan Kerr
Yingzhi Huang
Tulio Sulbaran
Katrina Fierro
Haya Albustamy
Cristabel Soto
Shruthi Dandamundi
Aarush Arora
Basmah Sawalhi
Jeffery Lew