Researchers from the Center for Research in Water Resources (CRWR) at The University of Texas at Austin in collaboration with Insititute for Arctic and Alpine Research (INSTAAR) at the University of Colorado at Boulder and the Global Institute for Sustainability at Arizona State University and The Mountain Institute are engaged in a program of research focused on developing adaptation strategies for basin stakeholders to deal with climate change impacts on water resources and security in glacier dominated watersheds in the Himalayas and the Andes.
     This research has been supported by the US National Science Foundation, the US Agency for International Development (USAID), and the Fulbright Program. Some of the results of this research are available at the links listed below.
Vision of High Mountains Adaptation Partnership
We have strengthened scientific, social, and institutional capacity for the management of dangerous glacial lakes.  We were instrumental in the successful implementation of the community-based, participatory glacial lake risk reduction projects, including implementation of a successful V&A training program, promotion of South-South knowledge exchange, development and deployment of an innovative Glacial Lake Rapid Reconnaissance Team, drivers of a successful mini-hydro generation project, and playing a critical donor coordination role. We have fostered the development of the next generation of climber-scientists fluent in climate change and adaptation issues, research methods, and action projects in high mountain glacial watersheds.  We have raised global awareness for the critical importance of high mountain glacial watersheds.  We established the first High Mountain Glacial Watershed Community of Practice that provided new opportunities, linkages and knowledge internationally between connected and previously disconnected high mountain scientists and practitioners.
Climate Change You Can Believe In: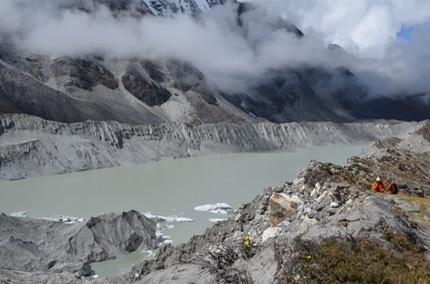 Imja Lake, Nepal, September 2011.
Imja Lake, Nepal, September 2012.
High Mountains Adaptation partnership Facebook Group  
https://www.facebook.com/groups/218558948260398/

Our field sites for this work: