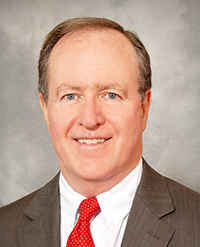 L. Patrick Flynn, Jr.
B.S.Ar.E., University of Texas at Austin, 1981
Patrick Flynn has been at the forefront of Austin's development for more than three decades of rapid growth and expansion. Throughout his career as a general contractor and dedicated volunteer, he has helped build Austin. Committed to furthering the field of architectural engineering, he has built his own firm that has a first-rate reputation for excellence in safety, green building and ethics in business.
The son of two World War II Navy Veterans, Flynn grew up in the New York state and developed a deep love for water and sailing. He came to UT to study architectural engineering and is very grateful to the university for giving him a solid educational foundation to succeed in engineering and construction management.
After starting his career as a structural engineer, he worked throughout Texas and completed advanced business training though the Executive Business Program at UT. As the story goes, he started his own company at his kitchen table with $5,000 he received from a tax return.
In 1986, he founded Flynn Construction, Inc., a diversified general contracting firm with expertise in commercial building construction. The company specializes in designing and building highly complex, technical spaces such as cleanroom labs, and facilities for advanced microelectronics, nanotechnology and life science DNA genetic research. Flynn Construction has been a consistently top-ranked Austin area contractor for many years.
As the semiconductor industry grew in Central Texas in the 1990's, Flynn Construction emerged as the leader in advanced technology microelectronic labs and cleanroom construction. With the recent emergence of the life science industry in the area, the company is again leading the field as the expert in highly complex technical projects in genetic research and life science. During his career, Flynn and his company have completed the design and construction of over 100 labs and cleanroom facilities.
Flynn Construction has a long list of completed projects on the UT campus, including the Cryo-Electron Microscope and X-Ray Crystallography Lab in the Norman Hackerman Building, and Computer Lab Renovation at the McComb's School of Business.
The company is also dedicated to furthering the fields of architectural engineering and construction management by implementing best engineering practices and developing professional expertise in energy conservation, LEED green building, environmental preservation, and sustainability.
Flynn is deeply committed to giving back to the community through service. Over the past 30 years, he has been an active member or served on the board of Foster Angels, the Boys & Girls Clubs of Austin, SafePlace, the Austin Chamber of Commerce, and Austin Sunshine Camps.