Academy of Distinguished Alumni
Alumni Image #1:

Image Caption Title #1:

JFK Causeway - Corpus Christi, Texas

Image Caption #1:

Breen's research contributed to segmental bridge technology and was first applied on the Intercoastal Waterway on the JFK Causeway in Corpus Christi, the first-of-its-kind in the United States.

Alumni Image #2:

Image Caption Title #2:

Storebaelt West Bridge - between Sprogø and Funen, Denmark

Image Caption #2:

Breen chaired the Independent Design Board for the Storebaelt West Bridge in Denmark. The bridge has one of the world's longest main spans and it crosses the Great Belt strait between the Danish islands of Zealand and Funen.

Alumni Image #3:

Image Caption Title #3:

Sunshine Skyway Bridge - Tampa Bay, FL

Image Caption #3:

Breen has been a worldwide leader in the development of design and construction standards and a consultant for both structural and concrete buildings and bridges. He was a consultant on a number of bridge projects including this bridge, which crosses over four miles.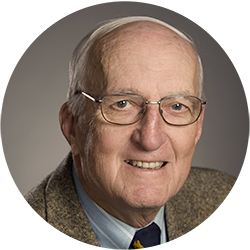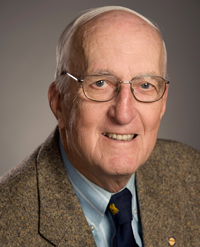 John E. Breen
Ph.D., University of Texas at Austin, 1962
M.S., University of Missouri, 1957
B.S., Marquette University, 1953
Dr. Jack Breen is an acclaimed civil engineer and educator who has influenced the principal design and construction standards for concrete bridges and buildings nationally and internationally. A member of the National Academy of Engineering, he is the Nasser I. Al-Rashid Chair Emeritus in Civil Engineering at The University of Texas at Austin, where he has served as a member of the faculty since 1959 and has been active in the development of new and innovative reinforced and prestressed concrete bridge and building systems.
Breen's research has garnered recognition and awards from organizations such as the American Society of Civil Engineers, the American Concrete Institute, the Prestressed Concrete Institute, the American Segmental Bridge Institute, and the International Federation for Prestressed Concrete. He received the 2003 Bridge Engineering Research Award from the Bridge Engineering Association, which cited him for his excellence in structural concrete research, column design, reinforcement development, general structural integrity, segmental bridge design, corrosion protection, and bridge aesthetics.
He is a member of a committee of the American Society of Civil Engineers which sets the design loads for buildings, and is also a member and past chair of the American Concrete Institute Building Code Committee for Structural Concrete. This committee develops the design and construction rules for all concrete buildings in the United States and in many foreign countries.
A former construction engineering officer in the U.S. Navy and faculty member at the University of Missouri-Rolla, he has received five university and national awards for his teaching.
In 2003, he was chosen by the University of Texas at Austin Graduate Engineering Council to receive their Faculty Appreciation Award, which recognizes a faculty member who has fostered the well-being and professional development of engineering graduate students. In receiving this award, Breen commented, "I am aware of the extreme demands made on graduate students and want each one that I come into contact with to know that I respect their opinion and welcome their visiting my office. The students keep me young."