News & Features
2016 Outstanding Young Alumnus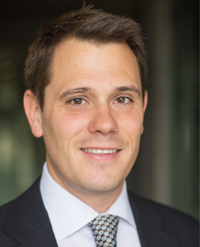 Sept. 21, 2016

Alumnus John S. McCartney (PhD 2007) has been named the 2016 Outstanding Young Alumnus in the Department of Civil, Architectural and Environmental Engineering.
Established in 2003, the Outstanding Young Alumnus/Alumna award recognizes a graduate of the department under the age of 40 who has distinguished himself or herself with outstanding service and contributions to the engineering profession and community.
McCartney is an associate professor in the Jacobs School of Engineering at the University of California San Diego and is a leader in unsaturated soil mechanics, geosynthetics, and foundation engineering. He has integrated concepts from these areas to solve new problems encountered in thermally active geothermal systems.
He has used his experience from a study on centrifuge-scale modeling of drilled shafts used as heat exchangers to develop one of the first instrumented energy pile installations in the U.S. at the Denver Housing Authority Senior Living Center. Following this, he incorporated different types of energy piles into a new building at the U.S. Air Force Academy, with the goal of providing the Department of Defense with strategies for managing the energy efficiency of their facilities.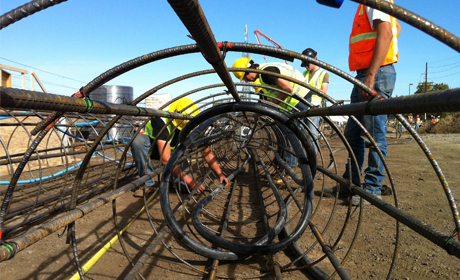 Attaching geothermal heat exchangers to the inside of the reinforcement cage for a drilled shaft foundation.
He is currently investigating the storage of heat collected from renewable sources (solar thermal panels) in borehole arrays in the vadose zone, and the incorporation of heat exchangers into geosynthetic-reinforced retaining walls.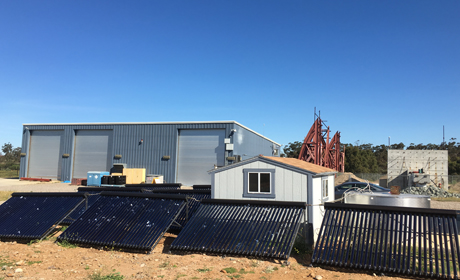 Solar thermal panels used to collect heat for injection into a soil-borehole thermal energy storage system.
McCartney's research efforts have been recognized by awards from a number of different professional societies, including an NSF Faculty Early Development (CAREER) Award, the ASCE Arthur Casagrande Professional Development Award, the Deep Foundations Institute Young Professor Award, the ASTM International President's Leadership Award and the International Geosynthetics Society's Young IGS Award.
His Ph.D. research with Professor Jorge Zornberg on the characterization of the hydraulic properties of unsaturated soils using a geotechnical centrifuge was also recognized by the ASCE J. James R. Croes Medal.
McCartney serves in leadership roles on a number of national committees and is the Editor of the Journal of Geotechnical and Geoenvironmental Engineering. He is also passionate about teaching, and his efforts were recognized by the 2012 Shamsher Prakash Prize for Excellence in Teaching of Geotechnical Engineering. He has advised 15 PhD students, 22 MS students, and 27 undergraduates on research projects.
Over the years, McCartney has maintained a close relationship with The University of Texas at Austin, and regularly gives research seminars to the geotechnical graduate students. He has also been instrumental in the continued development of the UT geotechnical centrifuge.