News & Features
Alumnus James W. "Jimmy" Canning - Distinguished Engineering Award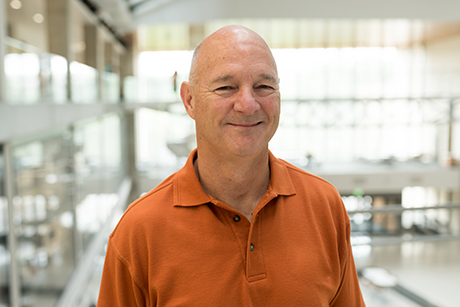 May 24, 2019

James W. "Jimmy" Canning (BS 1979) was selected to receive the Cockrell School of Engineering's 2019 Distinguished Engineering Graduate Award. This award is one of the highest honors that the Cockrell School bestows on its alumni.
Each year, the Cockrell School of Engineering recognizes five alumni with the Distinguished Engineering Graduate Award as highly respected professionals, dedicated engineers and supporters of higher education. This year, Jimmy is the only alumni of the Department of Civil, Architectural and Environmental Engineering to be chosen.
A native of Lockhart, Texas, the BBQ Capital of the World, Jimmy received his bachelor's degree in civil engineering from The University of Texas at Austin in 1979 and immediately began working for Exxon (later ExxonMobil) in West Texas.
During his career with ExxonMobil, Jimmy served in a variety of technical and managerial positions, including reservoir and production engineering, operations, tertiary technology, strategic planning, property acquisitions and divestments, quality, project management, external interfaces, and socioeconomics. Some of his career highlights with the company include the introduction of CO2 flooding in West Texas, the first deep-water developments in West Africa, major development and operations projects in Russia and Papua New Guinea, and the implementation and management of the Socioeconomic Center of Expertise at ExxonMobil. Jimmy's career has allowed him to live in Germany, Nigeria, and Papua New Guinea, and work in a number of countries, including Angola, Canada, England, France, Iraq, Japan, Korea, Norway, Russia, and South Africa. While he retired from ExxonMobil in 2017 after more than 37 years of service, he continues to serve as a consultant to the company in the areas of socioeconomics and major project development.
While he retired from ExxonMobil in 2017, Jimmy has dedicated a significant amount of time and business acumen to various activities within the Cockrell School of Engineering. He is a Life Member of the Friends of Alec, and he and his wife, Kim, have established an engineering excellence endowment and named a classroom in Ernest Cockrell Jr. Hall. He has served on and chaired the External Advisory Committee for the UT Department of Civil, Architectural, and Environmental Engineering (CAEE), and is currently leading a task force for the department. He is a member of the CAEE Academy of Distinguished Alumni, and also serves on the Advisory Board for the Projects for Underserved Communities program. He is a frequent speaker and guest lecturer to engineering classes and student organizations, and he also mentors students. He served on the ExxonMobil recruiting team for over 25 years, where he recruited engineers from UT during most of his career.
Jimmy is a member of the Society of Petroleum Engineers and is a licensed Professional Engineer in the State of Texas. He lives in the Houston area with his wife, Kim, and he is very active in a number of community activities, including United Way, Habitat for Humanity, Texas Food Bank, and the MS 150. He loves to spend time with family and friends, travel (he has been to all 7 continents), play basketball, read, play guitar, attend UT sporting events, and of course, eat BBQ.
Jimmy will be honored at spring commencement along with five other awardees. Additionally, he will be this year's Cockrell School Commencement Speaker.