Feature Stories
More than 100 years ago, our department started with only two faculty and a small but dedicated group of students. Today, we are one of the largest, most extensive civil engineering departments in the nation, with more than 10,000 living alumni, over 1,000 students, and over 60 faculty members. Even though we are top ranking and large in size and stature, we make it a priority to connect with our students and to foster a sense of community.
These stories illustrate both why our graduates are sought out by industry, government, and academia and why our research programs continue to improve the quality of life for many.
Lance Manuel, Professor of Mechanics, Uncertainty and Simulation in Engineering (MUSE), recently received the Lockheed Martin Aeronautics Company Award for Excellence in Engineering Teaching.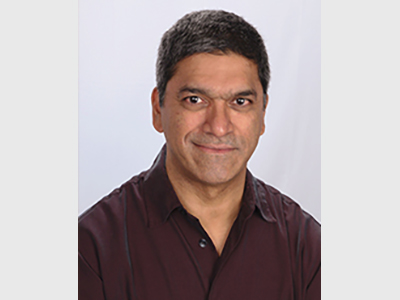 Lance Manuel, Professor of Mechanics, Uncertainty and Simulation in Engineering (MUSE), recently received the Lockheed Martin Aeronautics Company Award for Excellence in Engineering Teaching, which recognizes a faculty member for their exceptional teaching.
In his 21 years with UT Austin, Manuel has impacted countless Civil, Architectural and Environmental Engineering students. He helps his students learn to grasp harder concepts by using analogies that allow them to make connections with easier concepts they already understand. He also strives to create a stimulating environment that brings the "real world" to the classroom as much as possible by using current-day events or projects relevant to the material being learned. He is committed to making the classroom a place where, over just 14 weeks each semester, he can guide his students toward gaining confidence in their abilities and preparation for what lies next for them as engineers and citizens. He is equally committed to mentoring undergraduate and graduate students as they make the transition from learning in the classroom to possibly considering research and independent inquiry.
Dr. Manuel was awarded the Department of Civil, Architectural, and Environmental Engineering Teaching Award twice (in 2007 and 2015) in recognition of excellence in engineering teaching. He was voted the Best CAEE Professor by the Student Engineering Council for 2015-16. He has also been honored as an outstanding faculty member by the Texas Blazers and the Texas Spirits.
Since 1956, Lockheed Martin has sponsored an award for excellence in engineering teaching to reward a Cockrell School of Engineering faculty member for exceptional teaching. This prestigious award is given to a faculty member dedicating time and energy in abundance to teaching students. As a result, his or her work leaves a mark of excellence on the entire Cockrell School of Engineering.
Nominations for this award are made by The University of Texas at Austin engineering students and faculty. Final selection is made by a committee composed of the five most recent faculty recipients of the award and the student presidents of the Student Engineering Council (SEC) and the Graduate Engineering Council (GEC).
ASCE Meeting September 18, 2019
The University of Texas at Austin ASCE Student Chapter has been selected by the Committee on Student Members from the national American Society of Civil Engineers to receive a Letter of Honorable Mention for its outstanding activities as recorded in the 2019 Chapter annual report. This is recognition received by only the top third of all Student Organizations.

The student officers worked together and with members to expand the variety of topics covered at the general meetings, increase member attendance at meetings and events, collaborate with other student chapters and UT organizations, and increase the number of site visits and lunch and learns offered. These accomplishments reflect the enthusiasm and hard work of everyone involved.

To find out more about ASCE or how you can get involved, visit their website here!